'Rise Of The Planet Of The Apes' Concept Art Reveals Alternate Ending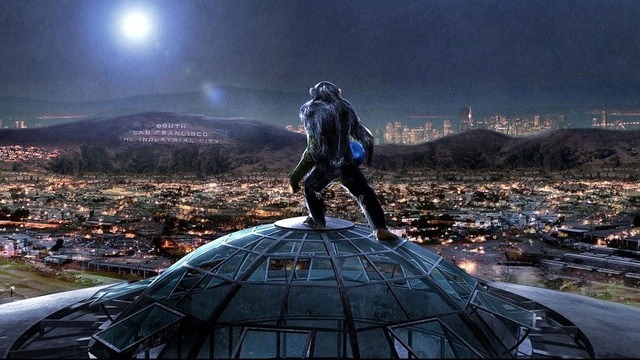 It's a sign of the impact of the new Planet of the Apes films that the two recent movies continue to be topics of conversation in a film landscape that is often all too quick to move on to the next big thing. We're still talking about Rise of the Planet of the Apes a couple years layer, in part because director Rupert Wyatt is doing the press rounds for his new film, The Gambler, and people still have many questions about his previous film. This concept art just happens to crop up at the same time as those interviews, but it offers something that fans of the original Planet of the Apes will appreciate: a view of a nixed Rise of the Planet of the Apes alternate ending that calls back to the original film.
The FilmSketchr blog [via ScreenCrush] found these images by concept artist Brian Cunningham (Godzilla, Watchmen), along with the basic description of the images.
These were for an excised final scene in the film, in which Caesar would have scaled a building, the nature of which was unknown to the audience. Time passes, and we see an older Caesar, and the camera pulls back to reveal that he is viewing a ruined New York City from the vantage point of the Statue of Liberty. This sequence was clearly not shot, and the film has Caesar staying in Northern California after the San Francisco-based events of the film. That's where the sequel, Dawn of the Planet of the Apes, was located as well. But there's still time for the filmmakers of the inevitable third film to reference that famous Apes image of the Statue of Liberty.