'Inherent Vice' UK Trailer: Paul Thomas Anderson Cuts A New Look At His Film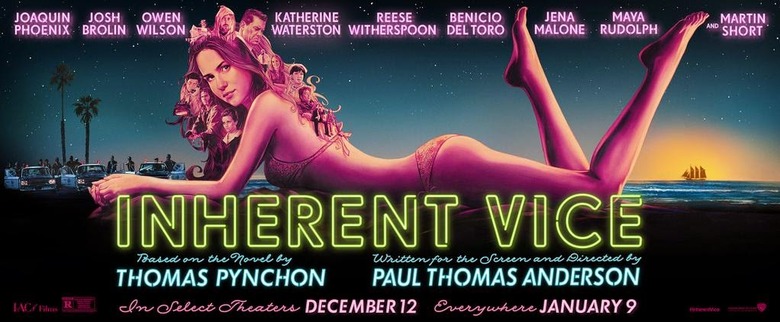 Paul Thomas Anderson has given us an unexpected gift this morning, and if you live in London there are actually two gifts. For everyone, there's a new Inherent Vice UK trailer, cut by Anderson himself. For those actually in the UK — and specifically, those in London or close to the city — the special gift is that this trailer heralds surprise screenings of the film which will take place this coming Wednesday. Check out the new trailer below, and get the screening info, too.
This trailer is short, but there's some new footage, and it is an even more comedic look at the film than the official trailer.
Thanks to Cigarettes and Red Vines for the heads-up on this.
All the screening info is in that trailer, but for those who want it in plain type: Inherent Vice will be shown at the Prince Charles Cinema in London on Wednesday at 7 PM and 10:15 PM. (Or at 19:00 and 22:15 if you prefer.) Both screenings benefit The Film Foundation. Tickets are on sale now via the link just above.
Finally, if you want to assemble your own version of the Inherent Vice soundtrack before the official release in December, The Playlist has the full track list. This includes some of Jonny Greenwood's cues, which you'll have to wait for, but in the meantime you can build a playlist of the rest of the songs. (The Greenwood tracks have titles related to the film, but they are primarily character names, and having read the book not anything I would call spoilerish.)
1. Shasta – Jonny Greenwood
2. Vitamin C – CAN
3. Meeting Crocker Fenway – Jonny Greenwood
4. Here Comes the Ho-Dads – The Marketts
5. Spooks – [unreleased Radiohead song]
6. Shasta Fay – Jonny Greenwood
7. Les Fleur – Minnie Riperton
8. The Chryskylodon Institute – Jonny Greenwood
9. Sukiyaki – KYU Sakamoto
10. Adrian Prussia – Jonny Greenwood
11. Journey Through the Past – Neil Young
12. Simba – Les Baxter
13. Under the Paving-Stones, the Beach! – Jonny Greenwood
14. The Golden Fang – Jonny Greenwood
15. Amethyst – Jonny Greenwood
16. Shasta Fay Hepworth – Jonny Greenwood
17. Any Day Now – Chuck Jackson
The soundtrack album will be released on December 15. Inherent Vice opens limited on December 12, then goes wide in January.