NBC Releases Full 'Peter Pan Live!' Trailer: Watch Captain Hook Sing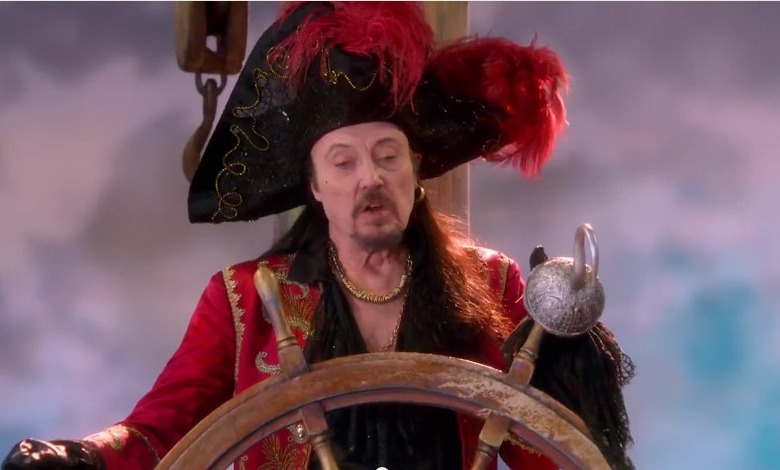 Update: NBC has released a full length Peter Pan Live trailer. Watch it now embedded after the jump.
NBC's Sound of Music Live! was a bit of a disaster as an actual musical production. Lead Carrie Underwood couldn't act to save her life, and as a result the whole thing kind of fell flat. But Sound of Music Live! was an unambiguous success in terms of ratings, with 18.62 million viewers tuning in.
So NBC is trying the live musical thing again this winter with Peter Pan Live!, starring Allison Williams as the boy who never grew up and Christopher Walken as his embittered pirate nemesis. Watch the Peter Pan Live trailer after the jump.
Update: Here is the new full Peter Pan Live trailer:19
NBC unveiled the new Peter Pan Live trailer.
While we've seen pics of Williams and Walken in costume before, the new Peter Pan Live! promo offers a better taste of what they'll look like in action. Walken looks much more like himself than he did on the poster, and he definitely brings his own spin to the character. As exec producer Neil Meron commented in a behind-the-scenes video, "The Christopher Walken way of playing Hook is the Christopher Walken way of playing Hook."
As for Williams, she looks like she's having a grand old time in what she's called "the absolute dream job." And that's not just idle chatter. When she won the gig, her father Brian Williams got to make the announcement on his program, NBC Nightly News. "Family members confirm she's been rehearsing for this role since the age of three, and they look forward to seeing her fly," he said.
Brian Williams' report is worth seeing if only for the adorable photo of a 3-year-old Allison in full Pan regalia. It starts around 0:25 below:
Peter Pan Live! airs Thursday, December 4 at 8/7c. Also starring are Minnie Driver as the adult Wendy Darling, Christian Borle as Mr. Smee and Mr. Darling, Kelli O'Hara as Mrs. Darling, Taylor Louderman as the young Wendy, and Alanna Saunders as Tiger Lily.