'Kung Fu Theater' Art Show At Hero Complex Gallery In Los Angeles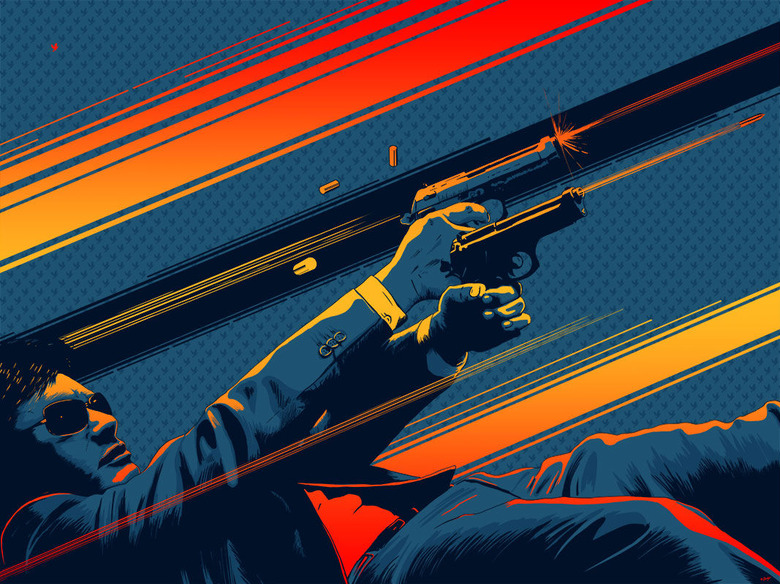 Don't let the name "Kung Fu Theater" throw you off. The latest exhibit at the Hero Complex Gallery in Los Angeles, CA isn't explicitly about martial arts. That subject is in there – big time – but this exhibit features Asian films of all action persuasions. The weapons aren't just feet and fists, but guns, swords, monsters, robots and more. The show opens Friday November 14 and will be online Saturday November 15. Below, you can check out some of our favorite pieces in the show, as well as the exclusive reveal of Craig Drake's Princess Mononoke poster which will be available on bamboo.
Co-curated by Craig Drake and Adam Smasher, Kung Fu Theater opens from 7-10 p.m. at the Hero Complex Gallery, 2020 South Robertson Blvd., Studio D, Los Angeles, CA. It'll remain open though November 30 from Wednesday through Sunday 11 a.m.-6 p.m.
Here's Craig Drakes insane piece. The bamboo piece will be available in a very limited run and one will be given away free to a lucky fan who attends opening night.
And here are a few other great pieces in the show.
Such a great scope of topics here, from video games and anime to movies and TV. In fact, below is a list of all the different kind of influences and properties in the show. It's crazy long and impressive:
Martial Arts, Anime, Manga, Asian Action Films, Bruce Lee, Ninjas, Samurai, The RAID, Cowboy Bebop, Oldboy, Hard Boiled, Voltron, TMNT, Gangnam Style, Crouching Tiger, Kung Fu Hustle, Kill Bill, The Matrix, Kurosawa, Ang Lee, Tsui Hark, Wong Kar-Wai, Atari, Hayao Miyazaki, Astro Boy, Godzilla, Kaiju, Akira, Hello Kitty, Power Rangers, Dragon Ball Z, Nintendo, Final Fantasy, Speed Racer, The Ring, Drifting, Wii, Ghost in the Shell, Aeon Flux, Pokemon, Golgo 13, Appleseed, Ultraman, Sailor Moon, and more!
Which is your favorite piece in the Kung Fu Theater show? Are they missing anything?