'Escobar: Paradise Lost' Trailer: Josh Hutcherson Falls For A Drug Lord's Niece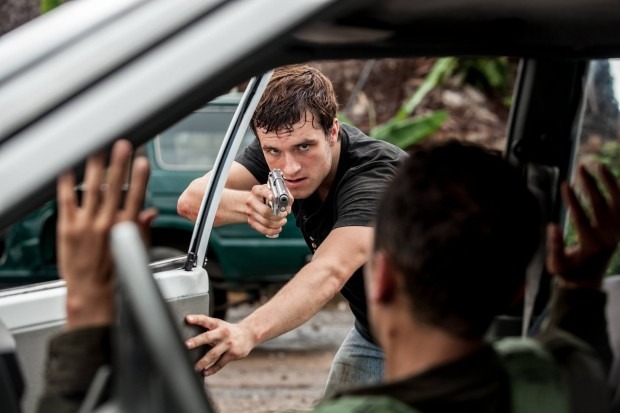 It's happened to all of us: you head south to surf, meet the person of your dreams, and then discover that their "Uncle Pablo" is in fact notorious cocaine kingpin Pablo Escobar. In the film Escobar: Paradise Lost, John Hutchinson is the surfer, Claudia Traisac is Maria, the girl he falls for, and Benicio Del Toro is Pablo Escobar. Through the three of them we see Escobar's criminal activities, but also the way in which he was held up as a Colombian folk hero for his donations back to the community. See the new Escobar trailer below.
Trailer via YouTube. Escobar: Paradise Lost will be on iTunes on December 16 and in theaters on January 16.
More than twenty years after his death in 1993, Pablo Escobar's impact on Colombia is still impossible to measure. His cocaine trafficking empire made him one of the wealthiest criminals in history, and he was responsible for the deaths of thousands. Yet the Robin Hood-like persona he cultivated, along with his brief political career, rendered him a folk hero among some of his fellow Colombians. Escobar: Paradise Lost is a chilling drama, based on a true story, that offers us a fascinating glimpse of Escobar's deadly allure.
Told from the perspective of Nick (Josh Hutcherson), an innocent surfer from Canada, Escobar: Paradise Lost unfolds during the final years of Escobar's reign. Nick and his brother Dylan (Brady Corbet) set up a modest surfing retreat near Medellin, where Nick meets the woman of his dreams, Maria (Claudia Traisac), who is busy campaigning for her politician uncle. That uncle turns out to be Pablo (Academy Award-winner Benicio del Toro), who invites Nick to a party at his "cottage," a sprawling, Xanadu-like jungle fortress. When he hears of the trouble Nick and Dylan are having with some local thugs, Pablo vows to "take care of it." The thugs turn up dead, and suddenly Nick finds himself immersed in a world of wild extravagance, corruption and bloodshed — one he will find nearly impossible to escape.
The directorial debut of actor Andrea Di Stefano, Escobar: Paradise Lost comes at organized crime from an unusual angle. Movies typically show crime syndicates as closed hierarchies, but Nick goes from outsider to insider in a flash — Pablo's devotion to his niece is so fierce that he doesn't hesitate to incorporate Nick into the family business. The question is: how far does Pablo expect Nick to go in exchange for his hospitality? Riddled with tension, Escobar: Paradise Lost takes you on a careening journey into recent history, one you won't soon forget.