New 'Gravity' Blu-Ray Will Have "Silent Space" Version Of The Movie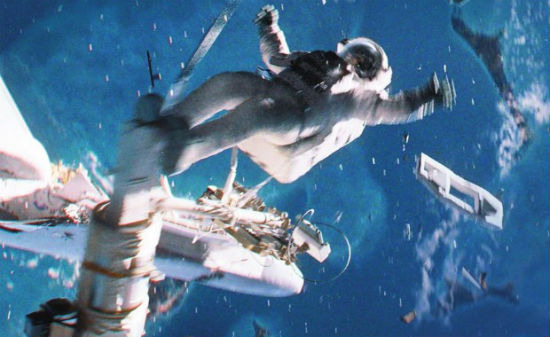 Alfonso Cuaron's Gravity did a fantastic job of showing how isolated one might feel in space. It also really pushed the emotions because of Steven Price's Oscar-winning score. Space is a silent vacuum, however, and to give Gravity fans a wholly new experience, an upcoming re-release of the Blu-ray will have a "Silent Space" audio track to give the viewer a sense of what the events of the movie might actually sound like in space. Read more about the Gravity silent space version below.
Thanks to The Film Stage for the heads up on this awesome feature. Here's the cover and promotion material for the new Diamond Luxe version of Gravity, which hits Blu-ray February 10.
A few thoughts on the Gravity silent space version. I'm curious how much work and thought was put into this feature. What we hear what we don't hear. Did Alfonso Cuaron supervise? It has to be different enough that it doesn't duplicate just hitting the mute button on your current Blu-ray and turning on the subtitles. Also, as unique as this feature may be, Price's score is so good, removing it would certainly remove some of what makes Gravity so emotional and exciting.
As if that argument needed more evidence, this edition will also have a full Dolby Atmos sound mix, something we know for a fact Cuaron worked on. Still, the "Silent Space" edition is just a fun, Blu-ray gimmick, like the version of Memento you can watch in order of the jokeless version of 22 Jump Street. It's a fun addition for fans who've watched a movie a million times and just want some kind of extra thing to enjoy and talk about.
If you already have the Gravity Blu-ray, is this a version something you'll be picking up? As someone who already owns the 3D Blu-ray and doesn't have a particularly well balanced sound system, I'd be interested to pop this in at a friends house but that's about it.
What are your thoughts on the Gravity silent space version?