Dwayne Johnson And Kevin Hart Team Up For 'Central Intelligence'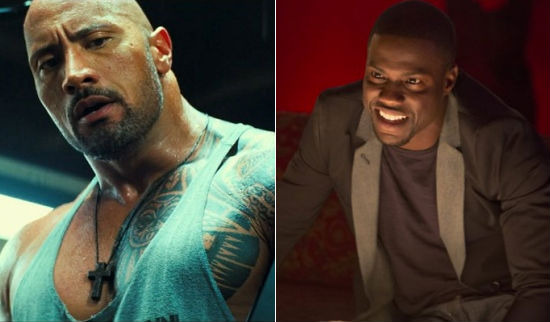 Dwayne Johnson recently tweeted a photo of him reading the script for his next movie. He described it as a "big action comedy" and said his co-star would soon be revealed. That's now happened. It's none other than Kevin Hart, the current go-to second lead in big comedies (Ride Along, Think Like A Man, Get Hard, The Wedding Ringer). They'll co-star in a buddy action comedy called Central Intelligence, directed by Rawson Marshall Thurber (We're The Millers).Variety broke the news of the film which will be distributed by New Line. Here's how they describe the plot:
The story begins with a class reunion approaching, as a former high school sports star turned accountant (Hart) is contacted by a classmate (Johnson) who was bullied and humiliated back in the day. The "loser" that the accountant remembers is now a CIA contract killer who ropes him into helping foil a plot to sell classified military secrets.
The original screenplay was by ?Ike Barinholtz and Dave Stassen but Sean Anders and John Morris did another draft and Thurber did one as well. Ed Helms was originally attached to the script, but now he'll executive produce.
Here are some of the tweets Johnson and Hart exchanged over the weekend in anticipation of this announcement:
Hardest workin' man in the room, talkin' to... the other hardest workin' man in the room... http://t.co/Fdfq8ZE5YM

— Dwayne Johnson (@TheRock) November 8, 2014
I see you big fella....The world is not ready for what we are about to hit them with @TheRock ......Let's ... http://t.co/qp4uOq7To1

— Kevin Hart (@KevinHart4real) November 8, 2014
Fired up reading the script of my next movie – Big action comedy. Surprise announcement this week of... http://t.co/Opx4P2519x

— Dwayne Johnson (@TheRock) November 9, 2014
Then, the official announcement:
He's The Golden Jet... and I'm Bob. And the crazy ass story of me and @KevinHart4real begins...http://t.co/Xh3yRoRWxt #CentralIntelligence

— Dwayne Johnson (@TheRock) November 11, 2014
The idea for Central Intelligence seems pretty familiar, but I'm all for Johnson doing comedies. He's exhibited some of his comedic chops in his action movies, but his personality is tailor made for a comedy with action elements. Add Hart into the mix and you can just imagine the crazy energy and chemistry those two huge A-personalities have.
Central Intelligence is aiming to shoot in the Spring 2015, which would suggest a Spring 2016 release date. Rawson Marshall Thurber has been mentioned as up for a bunch of projects since his huge success with We're The Millers, a sequel for which is currently in development. But it looks like this will be his follow up.
What do you think of a Dwayne Johnson Kevin Hart action comedy?