Sequel Bits: 'Toy Story 4', 'Bond 24', 'Sharknado 3', 'Mean Girls', 'Hocus Pocus'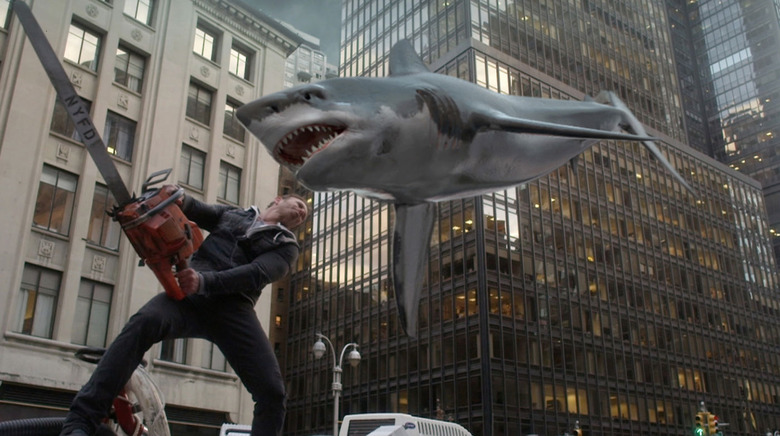 Thought shark-tornadoes were a ridiculous idea? Wait til we send them into outer space! Or at least, that's what the artwork on the new Sharknado 3 seems to be saying. Also after the jump:
Tina Fey says it's "too late" for a Mean Girls sequel
Bette Midler is totally up for a Hocus Pocus sequel
John Lasseter explains why they're making Toy Story 4
Jason Statham is returning for a sequel to The Mechanic
The Transporter Legacy sets a summer release date
Rumors has it Sam Smith will sing the Bond 24 theme
Tina Fey says no, because "it's too late now." Amanda Seyfried doesn't want one either "because you can't fuck with that." But Lindsay Lohan thinks "it would be really cool" to do one of the mean girls as adults, while Rachel McAdams is "totally up for that" provided Fey is involved. And Lacey Chabert goes one further, saying she only wants in if Fey is writing and Mark Waters is directing.
Tl;dr version: No, there isn't going to be a Mean Girls sequel. [EW]
Want a Hocus Pocus sequel? So do Bette Midler and her co-stars. You know who doesn't, though? Disney. After getting asked for the gazillionth time about a Hocus Pocus sequel during a Reddit AMA, Midler made a suggestion to her fans.
Inundate the Disney company, because I have canvassed the girls and they are wiling to do it, but we have no say in it, so if yo want a HOCUS POCUS 2, ask the Walt Disney company.
Midler also fielded a question about a First Wives Club sequel, but sounded less hopeful about that. "Oh it's so funny, they didn't want to make a sequel. It made over $100 million, and they couldn't be bothered," she wrote. [Reddit]
Toy Story 3 ended on such a perfect note that last week's Toy Story 4 announcement got some severely mixed reactions. However, director John Lasseter insists it's not about the money.
A lot of people in the industry view us doing sequels as being for the business of it, but for us it's pure passion. We only make sequels when we have a story that's as good as or better than the original. We don't just, because of the success of a film, automatically say we're going to do a sequel and then figure out what we're going to do.
Lasseter will be joined on the new film by Rashida Jones and Will McCormack, who are writing the script. "They have such a great sense of character and originality," he said of the pair. "And I wanted to get a strong female voice in the writing of this." [LAT]
Jason Statham's The Mechanic is getting a sequel, and it's just added a whole bunch of familiar faces. Tommy Lee Jones, Jessica Alba, and Michelle Yeoh are all set to join Statham in Mechanic: Resurrection, due out January 22, 2016. Dennis Gansel is directing.
Shooting has already begun on the new film, which picks up with hitman Arthur Bishop (Statham) as he tries to enjoy a peaceful retirement following his own faked death. But he's pulled back into action and tasked with assassinating some of the most dangerous men in the world. [Variety, THR]
The Transporter Legacy will be delivered a bit later than expected. Relativity has just shifted the release date from February 27, 2015 to June 19, 2015, where it'll be up against Pixar's Inside Out and the YA romance Paper Towns. Hey, sometimes you need some mindless violence to wash down all the feels.Ed Skrein (Daario Naharis version 1.0 from Game of Thrones) replaces Jason Statham as Frank Martin in the new installment. The film follows him into the French criminal underworld, where he takes down a group of Russian human traffickers. [Coming Soon]
Those "Sam Smith is doing the Bond 24 theme" rumors are intensifying. Sources indicate the British singer-songwriter has been in talks with producer Barbara Broccoli for the new film, beating out Lana Del Rey. But filmmakers aren't saying anything and Smith's reps will only say the story "is not confirmed," so we don't know anything for sure yet. [Page Six]
The first Sharknado 3 poster has just hit the American Film Market, and it looks predictably, enjoyably silly. The new tagline is "Oh hell no!" which goes well with Sharknado 2's "Shark happens!" and Sharknado's "Enough said!"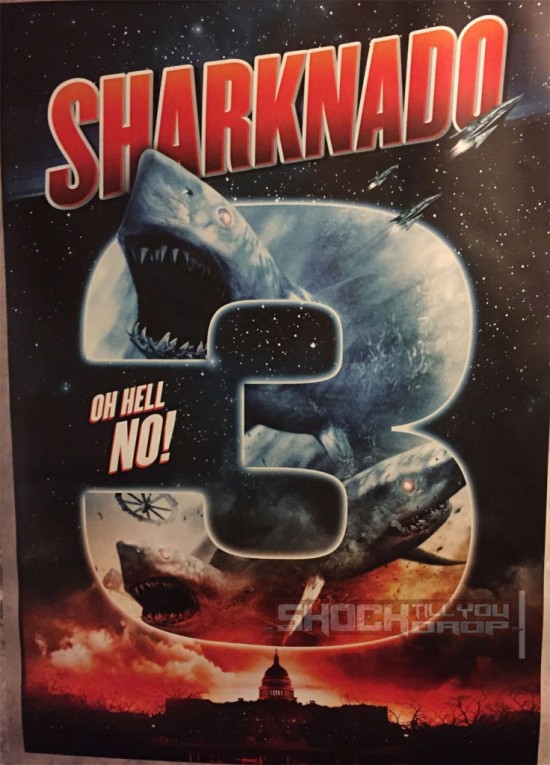 If the poster is any indication, this Sharknado looks even more ridiculous than its predecessors. There are spaceships floating around in the backdrop and the sharks have strange demonic eyes. We already know Sharknado 3 will be hitting the "Feast Coast" (i.e., the area from Washington, DC to Orlando, Florida), but might it shoot up into outer space after that? Perhaps in hopes of traveling through a wormhole and finding a new planet for Earthlings to inhabit? [Shock Till You Drop]