Bruce Campbell To Star In 'Ash Vs. Evil Dead' TV Series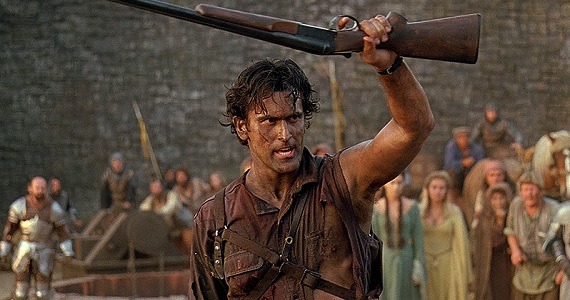 After years of rumor and speculation, we now know the future of the Evil Dead storyline, and Sam Raimi and Bruce Campbell are both involved. Starz has ordered ten episodes of an Evil Dead TV series — Campbell will star in Ash vs. Evil Dead, which will serve as the continuation of the three Raimi-directed Evil Dead films, which culminated with Army of Darkness. In other words, this is essentially Evil Dead 4, but as a five-hour TV series.
THR reports that Starz has recruited director Sam Raimi, producer Robert Tapert and star and co-producer Bruce Campbell for the 10-episode half-hour series. Ash vs. Evil Dead is set to premiere in 2015. This marks another reunion, of Starz with producers Raimi and Tapert, who were behind Spartacus.
So this is the TV series that Sam Raimi mentioned at Comic Con this past summer. We didn't have many details at the time, other than Campbell's agreement that he would star. Given all the rumors about continuation of Evil Dead that have cropped up over the years, we didn't really think much of the show announcement past Rami's initial comment. This makes it a real thing.
Sam Raimi will direct the pilot; he is co-writing that with brother Ivan Raimi (Army of Darkness, Drag Me to Hell) and Tom Spezialy (Chuck, Reaper).
The trade says this of the show's story:
Campbell reprises his role as the title character Ash, a stock boy, aging lothario and chainsaw-handed monster hunter who has spent the last three decades avoiding responsibility, maturity and the terrors of the Evil Dead. When a Deadite plague threatens to destroy all of mankind, Ash is finally forced to face his demons — personal and literal. Destiny, it turns out, has no plans to release the unlikely hero from its evil grip.
Rami said in a statement,
Evil Dead has always been a blast. Bruce, Rob, and I are thrilled to have the opportunity to tell the next chapter in Ash's lame, but heroic saga. With his chainsaw arm and his 'boomstick,' Ash is back to kick some monster butt. And brother, this time there's a truckload of it.
Campbell added, "I'm really excited to bring this series to the Evil Dead fans worldwide — it's going to be everything they have been clamoring for: serious deadite ass-kicking and plenty of outrageous humor."