'Into The Woods' Graces Cover Of Disney Twenty-Three Magazine; Read An Excerpt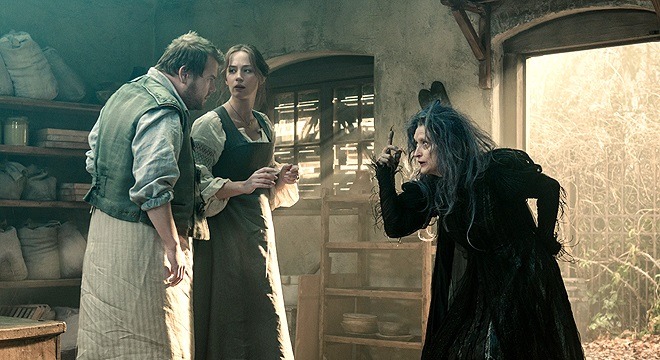 Disney may be riding high on their animation, Star Wars and Marvel, but that's not everything going on in their kingdom. Later this year, they're releasing the highly anticipated musical adaptation of Into the Woods, which stars Meryl Streep, Johnny Depp, Anna Kendrick, Emily Blunt and Chris Pine. Musical fans have along been singing the songs from the show, which blends a bunch of familiar fairy tales into a larger story, and now the hope is director Rob Marshall has brought some of that Chicago charm to the Tony award winning musical by Stephen Sondheim and James Lapine.
Disney's own magazine, Disney Twenty-Three, has Into the Woods on the cover this month and, below, you can get your first look at that as well as read an exclusive excerpt from the feature inside, which tells some behind the scenes stories including one regarding Meryl Streep's finger nails.
Here's the cover of the latest issue of Disney Twenty-Three, followed by an excerpt from the feature by Jeffrey Epstein: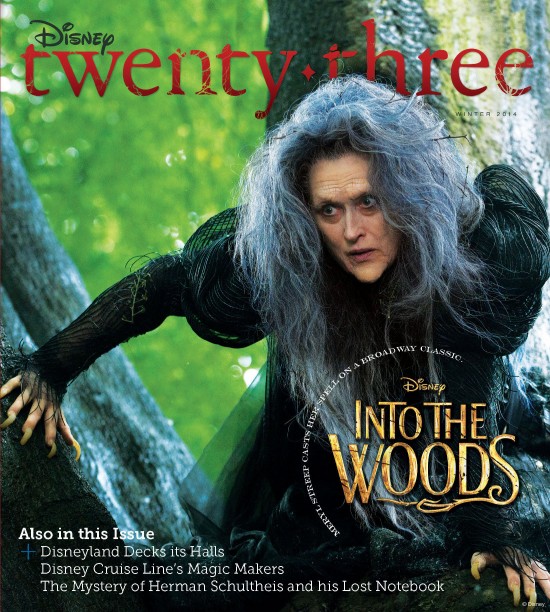 Beautiful may not be a word audiences will use to describe Streep's character who, for much of the film, resembles the hag from Snow White and the Seven Dwarfs. But, always game to inhabit a new character, the Oscar-winning actress used the 90-minute-to-two-hour process that turned her into a shriveled witch, to be "Zen." "They'd put that same music on every day and I just sort of tranced out," she remembers. Kendrick faced a different challenge—medieval garb. The cast was filming Cinderella's wedding to the Prince (not a spoiler for any concerned readers) at historic Dover Castle, a landmark for more than 800 years, which held back the French in the 13th century and served as the headquarters for the Admiralty's regional command during World War II. It's also the site of the film's "earthquake" (explaining that would be a spoiler).
During the scene, Kendrick was wearing one of designer Colleen Atwood's stunning costumes. "We're trying really hard to sell this earthquake," Kendrick remembers. "And that wedding dress was tight so I felt the corset was getting me a little loopy. By the end of the day I kept burying my face and I couldn't stop giggling."  The cast also had a good time with Streep's (fake) fingernails. "She was wearing these blue press-on nails in one scene," Kendrick recalls, "and they would, like, pop off. So she sort of started this game, like a little Easter egg hunt. She was going to give 10 bucks to anyone who could find one blue nail. I found one blue nail, but I never got my 10 dollars, so Miss Streep, you owe me." "Yes, absolutely!" Streep laughs. "They would be sticking to various people's costumes and we'd be back in the scene and somebody goes, 'There it is!' And they'd come up and then we'd paste it back on."
"I think that studio might still be littered with blue press-on nails because they got lost in the woods," Kendrick cracks. "And then I mean, what can you do?"
Into the Woods opens Christmas Day. The new issue of Disney Twenty-Three, which is published/created by D23, Disney's official fan club, is out soon.