Retro Burger Chain Johnny Rockets Is Bringing Back Drive-In Theaters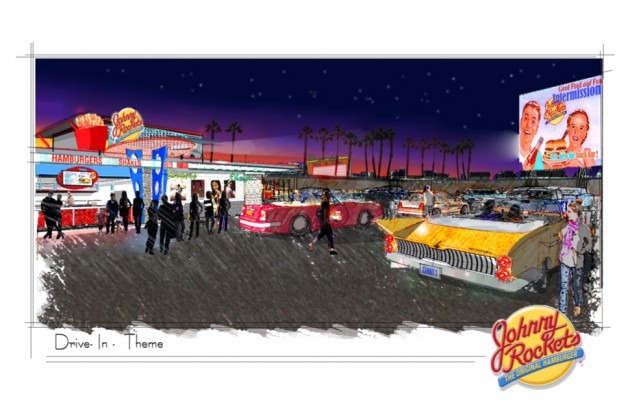 Johnny Rockets, a chain restaurant whose specialty is heaping nostalgia with a side of burgers, wants you to watch movies like it's 1959. The company has announced a partnership with USA Drive-ins to open Johnny Rockets drive-throughs with their drive-ins. Hit the jump for more on the Johnny Rockets drive-in plan.BusinessWeek reports USA Drive-ins plans to open 200 drive-in theaters by 2018, many of which will have an accompanying Johnny Rockets drive-through. Moviegoers will be able to either walk up to the counter to get their food, or have it delivered to them in their cars. ("No carhops on roller skates, though," notes BusinessWeek.) Each showing is expected to bring in 500 to 700 cars, totaling about 1,200 to 2,000 moviegoers.
At the height of the drive-in's popularity in the late 1950s, there were about 4,000 theaters nationwide. Today, only about 300 remain. Some of that decline can be attributed to changes in technology such as the rise of the VCR, or simply to changing tastes. But there's also the fact that drive-ins are seasonal by nature. They can't do showings when it's still light out, or when the weather is bad. At the same time, they take up a lot of space, so they can get pretty pricey to run.
The Johnny Rockets drive-ins have the advantage of being a restaurant first, however. "The drive-through is the cake, the drive-in [theater] is the icing," said Johnny Rockets chief development officer James Walker. He expects the drive-through Johnny Rockets locations to do even better than the existing Johnny Rockets locations, which should go a long way toward the cost of running a drive-in theater. A single franchisee will own both the restaurant and the theater.
Drive-ins should be a perfect fit for Johnny Rockets' retro style, but they should also appeal to modern audiences who want something a little different.  "Drive-ins aren't just about the movie, they're about the whole experience," said Walker. "You're able to interact with each other more than you would in an enclosed theater." As someone who hates theater talkers and texters, I would be so thrilled if people who wanted to do that stuff went to drive-ins instead of regular cinemas.
Tickets are definitely priced to compete with traditional theaters. Adults will pay about $6 to $7 for admission, while children will get in for $3 each. Plus, a Johnny Rockets bacon cheeseburger sounds way better than those plasticky prepackaged nachos or rubbery microwave pizzas you find at most movie theaters.