Watch The 'Futurama' Couch Gag From The 'Simpsons' Crossover Episode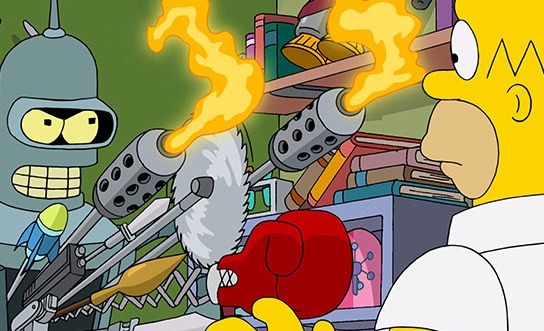 The Planet Express crew is making a special delivery to your TV this weekend. No, Futurama hasn't been revived again — Bender, Fry, and the gang are setting a course for Springfield in the next episode of The Simpsons, in hopes of preventing a disastrous future event.
But before it gets to that, though, the Simpsons episode will begin as all Simpsons episodes must — with a couch gag. And in keeping with the Simpsons / Futurama crossover theme, it brings back a minor but much-loved character into the Simpsons family living room. Watch the Simpsons Futurama couch gag after the jump.
Homer and Hedonismbot are such a match made in heaven, it's tragic we've never seen them together before. But we already know the rest of the Simpsons' run-in with the future folk doesn't go so smoothly. The first look image released in September, which you can see above, showed Bender pointing every weapon in his arsenal at a bemused Homer.
As previously revealed, the Simpsons / Futurama crossover promises to "unspool a complex, Terminator-esque story that involves Bart blowing his nose on a sandwich that he places in a time capsule. When that mixes with Milhouse's rabbit's foot and some radioactive ooze, it creates a global catastrophe in the future, prompting Bender to travel back in time to kill Bart and prevent this mega-mess."
How that meshes with the fact that Futurama is a fictional cartoon series in the Simpsons universe (and vice versa) remains to be seen. But we do know in real life, Futurama voice actors Billy West, John DiMaggio, Katey Sagal, Lauren Tom, Phil LaMarr, Tress MacNeille, and Maurice LaMarche will be joining the regular Simpsons cast for the episode.
The Simpsons / Futurama crossover episode, titled "Simpsorama," airs this Sunday, November 9 at 8:00 PM on Fox.