'Selma' Trailer: As MLK, David Oyelowo Fights For Voting Rights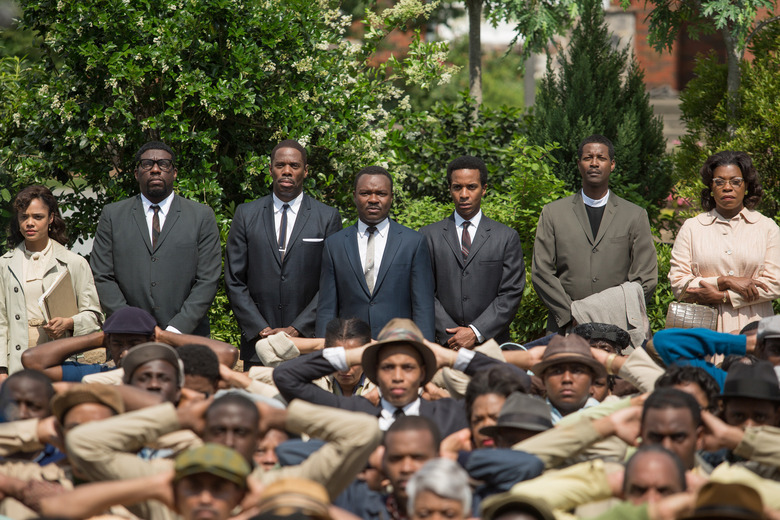 In the US we've just seen the sad turnout for a midterm election in which the under-30 crowd accounted for only 13% of voter turnout, and the 30-44 age group was only another 22%. The 45-64 year olds turned out in far greater numbers — more of that age range than of everyone younger combined. Naturally, election results swing to the interests of that one voting bloc, and that bloc does not have the interests of everyone in mind.
So it's a good time to be reminded that some voting rights were hard-won and should be used, no matter how cynical one may be about the process. (I speak as someone who is very cynical about the process.) In Selma, David Oyelowo plays Dr. Martin Luther King, Jr. The film follows the assassinated civil rights leader's organization of three marches from Selma to Montgomery, Alabama, meant to protest unjust voting restrictions. Like other Civil Rights Movement actions, these marches faced violent opposition, but also raised awareness of the inequality suffered by African-Americans. Watch the first Selma trailer below.
The film features a high-profile cast working under director Ava DuVernay. In addition to Oyelowo, Selma features Tom Wilkinson, Cuba Gooding Jr., Alessandro Nivola, Giovanni Ribisi Common, Carmen Ejogo, Lorraine Toussaint, Tim Roth, and Oprah Winfrey.
Selma opens in select theaters December 25, 2014, then goes wide on January 9, 2015. Yahoo has the trailer.
SELMA is the story of a movement. The film chronicles the tumultuous three-month period in 1965, when Dr. Martin Luther King, Jr. led a dangerous campaign to secure equal voting rights in the face of violent opposition. The epic march from Selma to Montgomery culminated in President Johnson (Tom Wilkinson) signing the Voting Rights Act of 1965, one of the most significant victories for the civil rights movement. Director Ava DuVernay's SELMA tells the story of how the revered leader and visionary Dr. Martin Luther King Jr. (David Oyelowo) and his brothers and sisters in the movement prompted change that forever altered history.