Standalone Showtime Streaming Service Likely Coming In 2015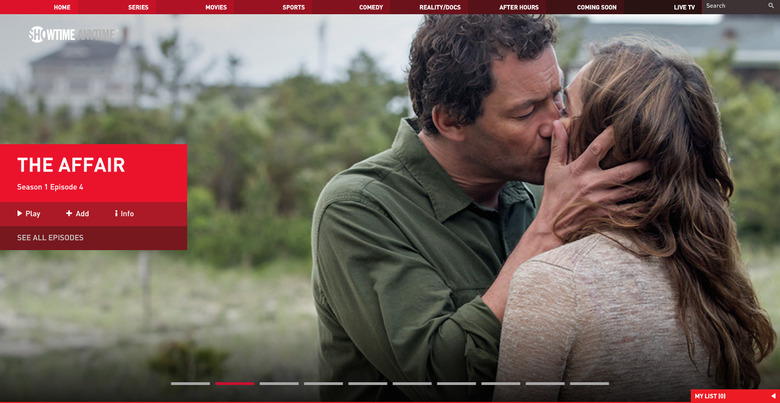 Showtime is following HBO into the cord-cutting era. The premium cable network has said we're likely to see standalone Showtime streaming in 2015, just a few weeks after rival HBO announced the same thing. Hit the jump for more details on the possible standalone Showtime streaming offering.Engadget reports Les Moonves, CEO of CBS Corporation (which owns Showtime Networks) mentioned the possibility of a cable-free Showtime streaming during an earnings call.
Moonves says we'll "fairly definitively" see stand-alone SHOWTIME offering in 2015. $CBS

— Julia Boorstin (@JBoorstin) November 5, 2014
"Fairly definitively" isn't a firm confirmation. However, just the fact that Moonves is talking about it suggests Showtime is working on serious plans to make standalone Showtime a reality in the near future. At present, the only way to get Showtime (and its web-based streaming service Showtime Anytime) is by subscribing to the channel through cable providers, which means even if all you want is Showtime you have to get a bunch of other stuff first.
But many consumers have been clamoring for an on-demand, a la carte model that allows them to pick and choose what they watch and when they watch it. Companies like Showtime and HBO have hesitated to make the leap for a few reasons, including the fear of pissing off cable distributors by shaking up the status quo.
This isn't entirely new territory for the CBS Corporation. Last month the company launched a streaming TV service called CBS All Access, which allows subscribers to watch live content and classic shows for a monthly fee of $5.99.
Whether cord-cutting is actually cheaper than paying for a regular cable subscription is up for debate, since it depends on so many different factors. Moonves didn't say how much a standalone Showtime service would cost, and for that matter HBO hasn't revealed any prices for its cable-free HBO Go option either. But it'll be nice to have the option, anyway.