First Look: Nicholas D'Agosto Suits Up As Harvey Dent In 'Gotham'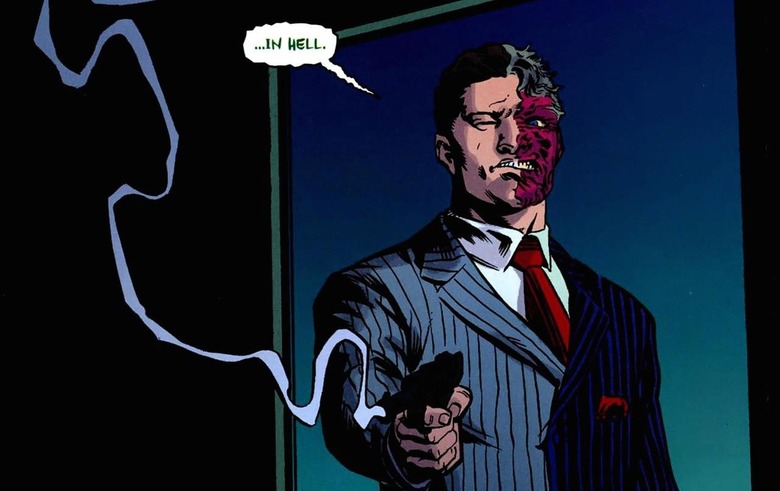 When Harvey Dent makes his first appearance on Fox's Gotham later this month, he'll still be years away from turning into the villainous Two-Face. But you don't have to wait nearly that long to see actor Nicholas D'Agosto transform into Harvey Dent. We have the first pics of D'Agosto in character right here.
See brand-new images of the Gotham Harvey Dent after the jump.
EW debuted the first pics of the Gotham Harvey Dent. Spoiler alert: He looks a lot like Nicholas D'Agosto in a suit. And not an especially nice suit, either, but the kind of boring, conservative, mid-range thing a young assistant district attorney might wear to work. So good job, costume team.
Gotham's version of the future villain is described as follows:
Bright, charming and idealistic, Harvey Dent's sole mission is to eradicate the crime and corruption that has poisoned Gotham. He is described as appealing, energetic and full of light and life, even while taking on the worst Gotham has to offer. Though he one day serves as the white knight Gotham desperately needs, Harvey also shows glimpses of who he will become: Two-Face.
Harvey Dent has previously been played by Billy Dee Williams in 1989's Batman, Tommy Lee Jones in 1995's Batman Forever, and Aaron Eckhart in 2008's The Dark Knight.
D'Agosto's is clearly the youngest and most innocent yet, which makes sense given when Gotham takes place. But if you've seen him in Masters of Sex, you probably already know he'll have no trouble pulling off Harvey Dent's dark side. "Basically well meaning but also kind of a creepy asshole" is basically his whole thing on that show.
D'Agosto is set to make his debut as Harvey Dent in the November 17 episode of Gotham which is titled, appropriately enough, "Harvey Dent." He'll be a recurring character for the rest of the season before being upped to a regular in Season 2.