'Into The Woods' Posters: Meet Your Favorite Fairy Tale Characters All Over Again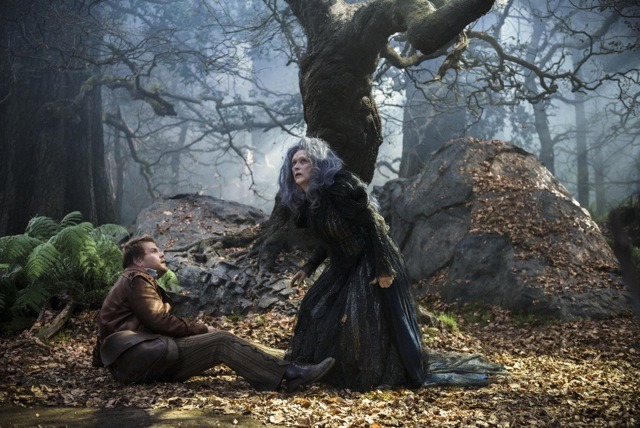 Why adapt just one fairy tale when you can tackle four of them at once? Disney's Into the Woods takes the classic stories of Little Red Riding Hood, Rapunzel, Cinderella, and Jack and the Beanstalk, weaving them all into a single fantastical musical centered around the original tale of a baker and his wife, who just want to have a baby.
The plus side to this massive mash-up is that we'll get to see our favorite fairy tale characters collide in unexpected ways, but the down side is that it's hard to keep track of so many characters. So Disney has released a series of Into the Woods character posters to get you better acquainted. Check 'em out after the jump.
[via Moviefone]
If you're wondering why the quality looks so lousy on all of these, it's because they are all GIFs, for no damn reason. When you have to look really closely to even tell anything's moving, what's the point?
Directed by Rob Marshall, Into the Woods opens December 25. A story this sprawling requires a cast to match, so in addition to all the stars you see above Into the Woods also features Tracey Ullman, Christine Baranski, Tammy Blanchard, Lucy Punch, Richard Glover, Frances de la Tour, Simon Russell Beale, Joanna Riding, and Annette Crosbie.
"Into the Woods" is a modern twist on the beloved Brothers Grimm fairy tales, intertwining the plots of a few choice stories and exploring the consequences of the characters' wishes and quests. This humorous and heartfelt musical follows the classic tales of Cinderella, Little Red Riding Hood, Jack and the Beanstalk, and Rapunzel—all tied together by an original story involving a baker and his wife, their wish to begin a family and their interaction with the witch who has put a curse on them. Into the Woods based on the Tony-winning original musical by James Lapine and Stephen Sondheim, surrounds a baker and his wife's quest to break a witch's curse in order to start a family. Along the way, they encounter several well-known fairy tale characters, and together they learn what happens after "happily ever after".