Marvel Phase 3 International Release Dates Revealed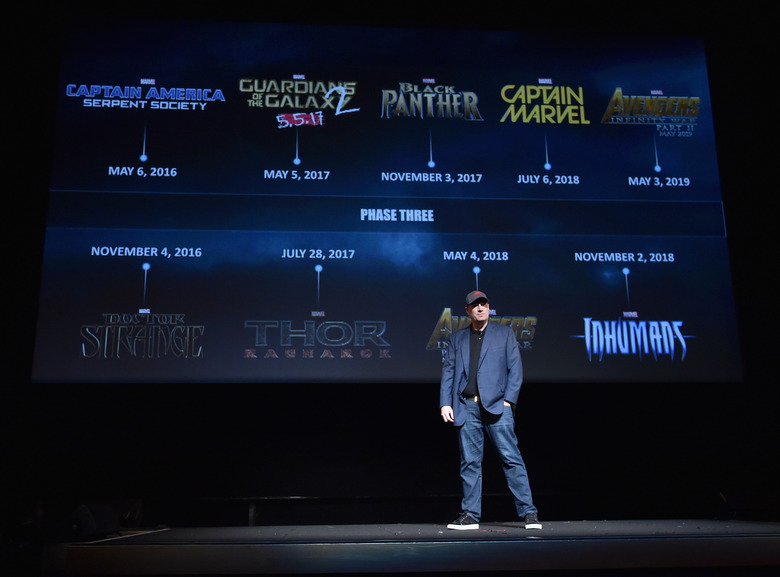 Living in the United States, it's easy to look at our release calendar and see it as the be-all, end-all. But these days, international audiences make up far more of the audience for a film than the US release does. International box office dollars are increasingly important to studios, including Marvel Studios. For example, Guardians of the Galaxy was a big hit in the United States, but it grossed more overseas. Same for The Avengers and Iron Man 3.
So, while last week U.S. audiences got release dates for all of Marvel's Phase Three, those essential international audiences were left in the dark. Now, the Marvel Phase 3 International release dates have been revealed. As usual of late, most of them take place before we get the films in the US.
Thanks to Superhero Hype for the info.
Captain America: Civil War – April 29, 2016 in some territories (May 6, 2016 domestically)
Doctor Strange - October 26, 2016 (November 4, 2016)
Guardians of the Galaxy 2 - April 28, 2017 (May 5, 2017)
Thor: Ragnarok – July 28, 2017 international and domestic
Black Panther - October 27, 2017 (November 2, 2017)
Avengers: Infinity War Part I - April 27, 2018 (May 4, 2018)
Captain Marvel – July 6, 2018 both
Inhumans - October 26, 2018 (November 2, 2018)
Avengers: Infinity War Part II - April 26, 2019 (May 3, 2019)
This doesn't account for all of the international release dates; just a portion. Most of the dates that'll come later won't be revealed until much closer to the actual release point.
Here's the Phase 3 press release from Marvel.
The Marvel Cinematic Universe will grow even bigger than ever before with Phase 3!
At a special event held at the El Capitan Theatre in Hollywood, Marvel Studios President Kevin Feige took to the stage to announce the full slate for Phase 3 of the Marvel Cinematic Universe, featuring a mix of fan-favorite characters along with a number of heroes set to make their big screen debut in the coming years.
And while the confirmation of upcoming sequels to the successful Captain America, Thor, Avengers and Guardians of the Galaxy franchises would have been enough to send fans into a frenzy of excitement, Feige also surprised guests with first details on upcoming films starring Black Panther, Captain Marvel, Doctor Strange and the Inhumans!