We're Telling You There's A Chance: Peter Farrelly, Jeff Daniels Up For 'Dumb And Dumber 3'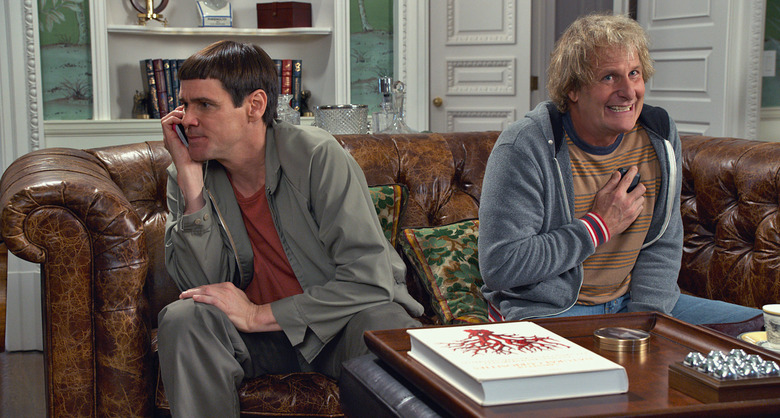 It took some 20 years to get from Dumb and Dumber to Dumb and Dumber To (with detours into prequel and TV territory in between), but we may not have to wait quite so long for Dumb and Dumber 3. As Dumb and Dumber To heads to theaters, both co-director Peter Farrelly and Jeff Daniels have already said they'd be on board for Dumb and Dumber 3.
Hit the jump to read their Dumb and Dumber 3 comments.
Farrelly and Daniels engaged in sequel talk at the Dumb and Dumber To premiere this week. "Depending how this does, I could see doing another," Farrelly told Variety. "I just really enjoy this movie and working with those guys. Yeah, I could see doing it again."
For his part, Daniels sounded willing as well. "I love the Farrellys, I love Jim [Carrey]," he said. "There's great value in making people laugh 20 years ago and I hope now. And (if) you get to do it again, you get to do it again."
Mind you, it doesn't sound like there are any plans in place yet. But at least the odds look better than one in a million. In other words:
Dumb and Dumber To suffered several stops and starts before it finally came together. It was originally set up with New Line and things got so bad there at one point that Jim Carrey dropped out. Eventually Warner Bros. dropped the project and Universal picked it up instead. Carrey signed back on, Daniels and the Farrellys remained attached throughout, and now here we are.
Farrelly professed to being very pleased with the hard-earned results. "It's very satisfying," he said. "It was a hard one to do and there were a lot of bumps in the road, but it turned out exactly how we hoped it would." For his sake, let's just hope Dumb and Dumber 3 proves a bit easier.
While we wait for Dumb and Dumber 3, audiences should stick around after Dumb and Dumber To for some "postcredits gags about future sequels," according to Variety. Dumb and Dumber To opens November 14.