Final 'Penguins Of Madagascar' Trailer Teases The Penguins' Origin Story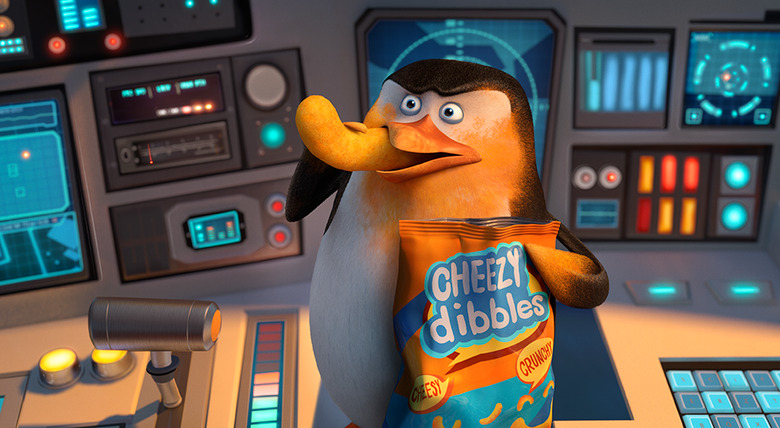 It's been a big 24 hours for animated spinoffs about adorable groups of tiny, often incompetent helpers. Last night we got our first Minions trailer, and today we have the last Penguins of Madagascar trailer.
The action adventure sees Skipper (Tom McGrath), Kowalski (Chris Miller), Rico (John DiMaggio), and Private (Christopher Knights) facing a threat from Dr. Octavius Brine (voiced by John Malkovich), an octopus with ties to the penguins' past. In order to take him down, they join forces with an elite organization called the North Wind, led by the cranky, no-nonsense Agent Classified (voiced by notable penguin mispronouncer Benedict Cumberbatch).
Watch the new Penguins of Madagascar trailer after the jump. 
DreamWorks TV unveiled the final Penguins of Madagascar trailer on YouTube.
It's silly, but the part where Kowalski decides to be brutally honest with this just-hatched chick gets me every time.
On the whole, Penguins of Madagascar looks like a solid Thanksgiving weekend pick. It's simple enough for a 4-year-old to grasp, but gags like the Werner Herzog voice cameo should get the adults laughing as well. At the very least, it seems more family-friendly than that weekend's other big wide releases, the R-rated Horrible Bosses 2.
Penguins of Madagascar opens November 26. Annet Mahendru, Peter Stormare, and Ken Jeong voice some other members of North Wind.
Super spy teams aren't born...they're hatched. Discover the secrets of the greatest and most hilarious covert birds in the global espionage biz: Skipper, Kowalski, Rico and Private. These elitists of the elite are joining forces with a chic undercover organization, The North Wind. Led by handsome and husky Agent Classified (we could tell you his name, but then...you know), voiced by Benedict Cumberbatch. Together, they must stop the villainous Dr. Octavius Brine, voiced by John Malkovich, from destroying the world as we know it.