Now You See Me 2 Title Revealed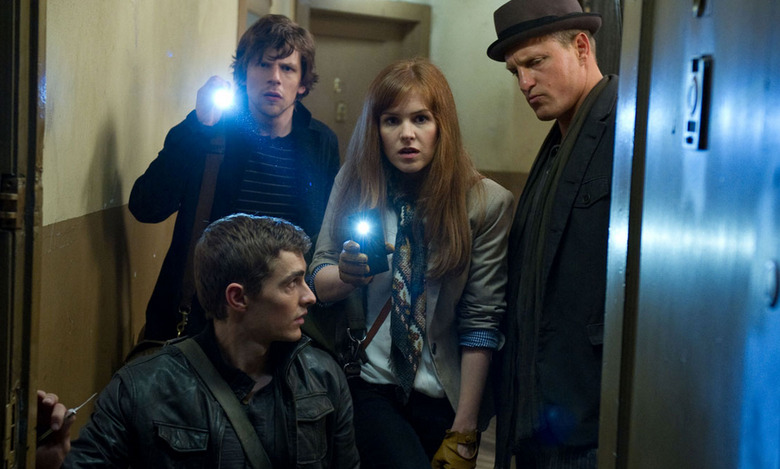 Mark Ruffalo has tweeted a photo from the Now You See Me 2 table read, revealing for the first time the Now You See Me 2 title. Find out the name of the sequel, after the jump.
Here is the photo from Instagram: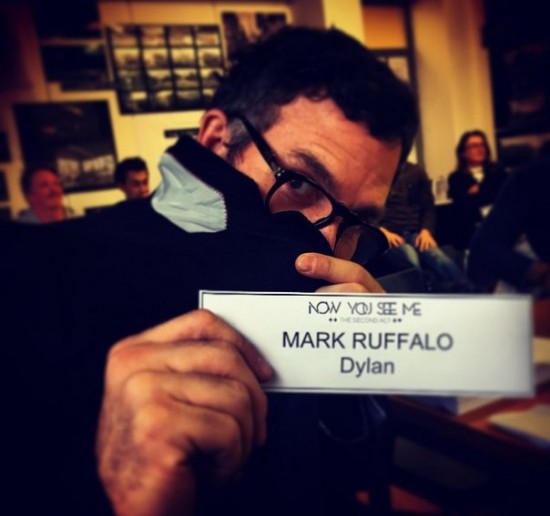 Lionsgate/Summit's Now You See Me 2, the sequel to Louis Leterrier's 2013 magic heist film, will be titled Now You See Me: The Second Act. Such a boring title. My twitter friend Dani Snow commented:
"Why in the world is the 'Now You See Me' sequel NOT titled "NOW YOU DON'T"? *flabbergasted*"
And yes, that is definitely a much better title. Of course, the title Ruffalo shows on his table read name card could just be the working title for the film. Movie titles often shoot under working titles, only to be changed when the marketing departments get involved after production ends.
My original story from November 4th 2014 follows:
Now You See Me 2 will reunite the ensemble cast from the first film, which includes Mark Ruffalo alongside the four horseman Jesse Eisenberg, Woody Harrelson and Dave Franco, and also Morgan Freeman and Michael Caine. The screenplay by Pete Chiarelli and Ed Solomon will tell the following story:
One year after outwitting the FBI and winning the public's adulation with their mind-bending spectacles, the Four Horsemen resurface in NOW YOU SEE ME 2 only to find themselves face to face with a new enemy who enlists them to pull off their most dangerous heist yet.
Nothing surprising here, a basic teaser that doesn't really reveal anything. Michael Caine previously confirmed in an interview that Daniel Radcliffe will be playing his so and that the new film will be set in London.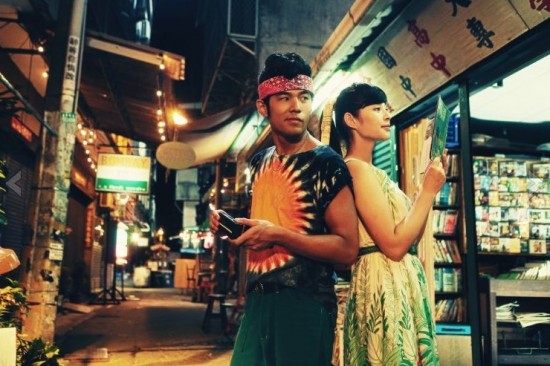 New to the film is director Jon M. Chu (Step Up series, GI Joe: Retaliation), and previously rumored actors Daniel Radcliffe (Harry Potter series) and Lizzy Caplan (Showtime's Master of Sex) are joining the crew as Walter and Lula. And a new name has also been announced, Taiwanese mega-star Jay Chou (The Green Hornet) will be joining the magic heist sequel, although his role or character has not yet been revealed. Caplan will be replacing Isla Fisher, who is not returning for the sequel.
Jon M. Chu has me excited about this sequel — the first film had such good ideas and promise but I really don't like Leterrier's style and this is finally the perfect film for Chu to show off his action choreography skills. With production gearing up to begin in December 2014, I'm sure we'll be learning more about this film soon. Summit will release Now You See Me 2 in theaters on June 10, 2016.