'Yoga Hosers' First Look: Kevin Smith And Johnny Depp's Daughters Take Center Stage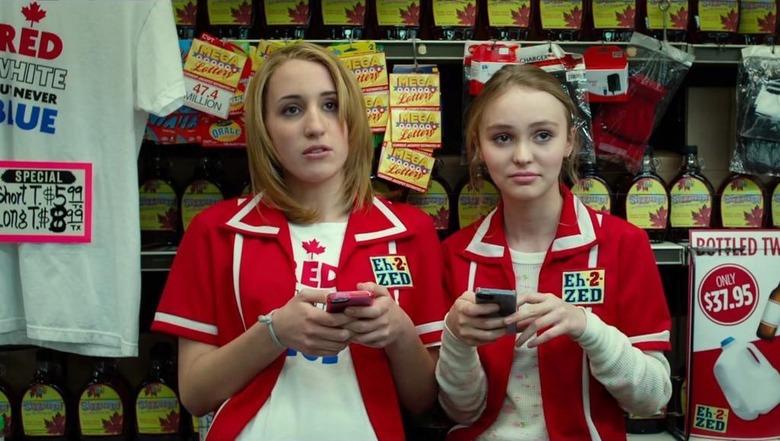 For most kids, "hanging out with family friends" means getting sent upstairs to play Monopoly with some weirdo from school while your parents get drunk together in the living room. But things are a bit different when you're the offspring of Kevin Smith and Johnny Depp.
After appearing together as two convenience store clerks in Tusk, Smith and Depp's daughters Harley Quinn Smith and Lily-Rose Depp are reprising their roles in a much bigger capacity for Smith's next movie, Yoga Hosers. The first image from that movie has just been revealed, and you can see it after the jump.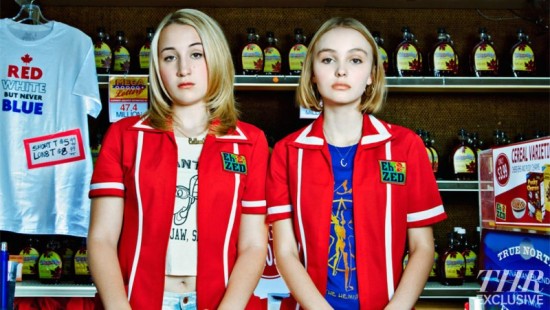 Yoga Hosers centers around Colleen Collette and Colleen McKenzie, two teenage yoga fanatics who work at a Manitoba convenience store. After "an ancient evil rises from beneath Canada's crust and threatens their big invitation to a Grade 12 party," they must join forces with legendary Montreal man-hunter Guy Lapointe (played by Lily-Rose's dad).
Not surprisingly, Smith seemed delighted with the girls' performances. "Their onscreen chemistry comes courtesy of a lifelong friendship: Harley and Lily have known each other since first grade," he said. "[I]n their case, acting and goofing around is in their blood. And it was thrilling to watch them both take their first steps in what's bound to be a lifelong passion for performance."
The new movie will be the second entry in Smith's True North Trilogy. Tusk was the first and the upcoming Moose Jaws (it's Jaws, but with a moose) will be the last. Shooting took place in August and September before going on hold to wait for Depp. Now that he's back, filming has resumed in Los Angeles.
Also starring in Yoga Hosers are Tusk's Michael Parks, Justin Long, Haley Joel Osment, Genesis Rodriguez, Ralph Garman, and Harley Morenstein, plus Tony Hale, Natasha Lyonne, Austin Butler, Adam Brody, Tyler Posey and Jason Mewes.