Sequel Bits: 'Bond 24', 'The Hobbit', 'Pacific Rim 2', 'Better Call Saul', 'Prometheus 2'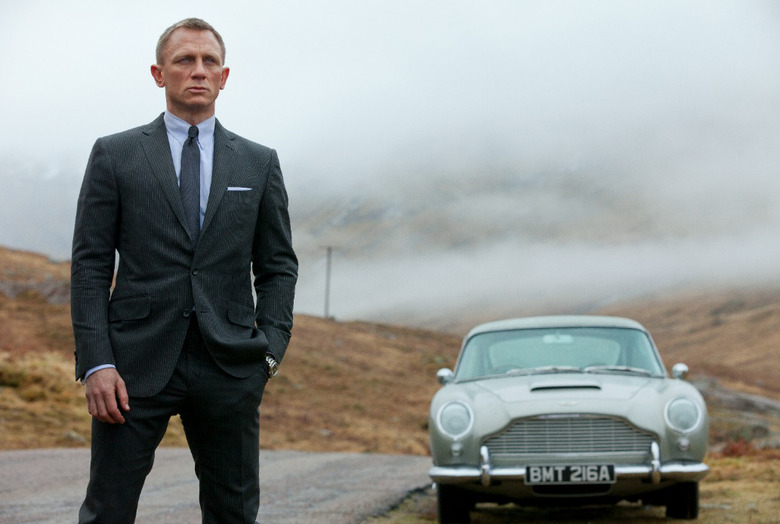 Get the latest updates on several sequels that are definitely happening, one that definitely is not, and one more that could really go either way. After the jump:
Bond 24 gets a polish from Edge of Tomorrow writer
Seriously, Michael Bay is not directing Transformers 5
Elijah Wood will not be in the next (and last) Hobbit movie
Don't hold your breath for a Titanic sequel, says James Cameron
Guillermo del Toro says Pacific Rim 2 will have a script by spring
Bob Odenkirk describes Better Call Saul as "a total drama"
Noomi Rapace drops some hints about Prometheus 2
Could there be more Hunger Games movies after Mockingjay?
It's easy to dismiss Michael Bay's insistences that he won't Transformers 5, since he said the same thing about Transformers: Age of Extinction before directing Transformers: Age of Extinction. But for real, he's not directing this time. Transformers 5 is already dated for 2016, as we reported in June, and Bay will likely be busy working on his Benghazi drama 13 Hours, as we reported last week. [Variety]
Don't look for Frodo to join his hobbit uncle in The Hobbit: The Battle of the Five Armies. After being left out of the latest press release, Elijah Wood has reportedly confirmed in a TV interview he will not appear in the final chapter of Peter Jackson's J.R.R. Tolkien saga. However, it does seem we'll still get a flash-forward to "present-day" Middle-earth like we did in The Hobbit: An Unexpected Journey. [TheOneRing]
It seems at times like every big property from the '90s is getting sequelized these days. But Titanic will be one of the few that doesn't, if James Cameron has any say. The filmmaker laughed off the idea of a sequel or prequel to the romantic drama. "Jack and Rose: The Early Years?" he joked. "Ain't gonna happen." Or maybe he's just saying that now because he's mad the Asylum beat him to the punch. [Mashable]
Guillermo del Toro has already said Pacific Rim 2 won't shoot until late 2015, but what'll be happening before then? The director offered a status update: "I don't think we'll have a working screenplay until March or April and then by May or June we start pre-production to shoot at the end of the year." The pre-production estimate is a bit earlier than the one he gave a few weeks back, but production still seems to be on the same timeline. [Collider]
AMC's Better Call Saul has been billed as a lighter take on the Breaking Bad universe, but don't look for it to be too much lighter. "It's a total drama, man," star Bob Odenkirk revealed. "It's 85 percent drama, 15 percent comedy." Then again, it'd be pretty tough for anything to be darker than the later seasons of Breaking Bad, wouldn't it? [THR]
Could The Hunger Games saga live on after Mockingjay? Director Francis Lawrence doesn't sound very certain either way.
It's a tough thing. It's a weird thing. That world of Harry Potter, there's a lot to that world that you can explain. You can understand the appeal of telling another story, but can you actually do it without Harry, Hermione and those characters? Will people care as much? And I guess you can say the same thing about the Hunger Games world. There are a lot of past games and a lot of this world, but without Katniss, is it the same? Part of what I like about the series is the connection to things we think about and talk about now. What's the new version of that? That would be the tricky thing.
Of course, considering these movies are practically printing money, it seems a safe bet Lionsgate will at least explore the notion. [Empire]
Noomi Rapace has some thoughts on where her character might go in Prometheus 2.
I know that Elizabeth Shaw wants to go to paradise. I say that in the first one. I don't wanna go back. She can't go to Earth. There's nothing left for her there really. She wants to go where they come from, those giants, those creatures. In her head that's the dark paradise. What's there? She wants answers. She wants to know. I feel like I'm sharing her curiosity but also her anger.
The sci-fi sequel will shoot some time after director Ridley Scott wraps The Martian. [JoBlo]