Watch 27 Minutes Of 'The Hobbit: The Desolation Of Smaug' Extended Scenes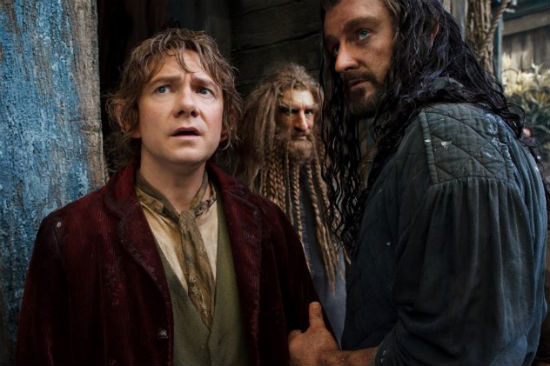 At 161 minutes, Peter Jackson's The Hobbit: The Desolation of Smaug isn't exactly brief to begin with. But for those who'd like to spend still more time in Middle-earth, The Hobbit: The Desolation of Smaug Blu-ray promises nearly half an hour of additional footage. Want more of Thorin's backstory, Gandalf's badassery, or Bard's cunning? Extra time in Mirkwood, Lake-town, or Beorn's house? It's got you covered.
Hit the jump to watch 27 minutes of The Hobbit: The Desolation of Smaug extended scenes.
Removed
The 27-minute video just lumps all the extra footage together without any transitions, so it's tough to tell how these scenes would have played in the context of the entire film. On the whole, there doesn't seem to be anything absolutely crucial here for the casual movie watcher — these bits were left on the cutting room floor for a reason, after all — but hardcore Tolkienites may rejoice to see more of their favorite characters and locales.
The Hobbit: The Desolation of Smaug is available now on DVD, Blu-ray, and VOD / streaming. You might as well enjoy what time you can get in Middle-earth now, because The Hobbit: The Battle of the Five Armies closes out Warner Bros.' entire six-film Tolkien saga on December 17.
Having survived the beginning of their unexpected journey, the Company continues East, encountering along the way the skin-changer Beorn and a swarm of giant Spiders in the treacherous forest of Mirkwood. After escaping capture by the dangerous Wood-elves, the Dwarves journey to Lake-town, and finally to the Lonely Mountain itself, where they must face the greatest danger of all—a creature more terrifying than any other; one which will test not only the depth of their courage but the limits of their friendship and the wisdom of the journey itself—the Dragon Smaug.