'Girls' Season 4 Preview: Marnie Threatens To Rap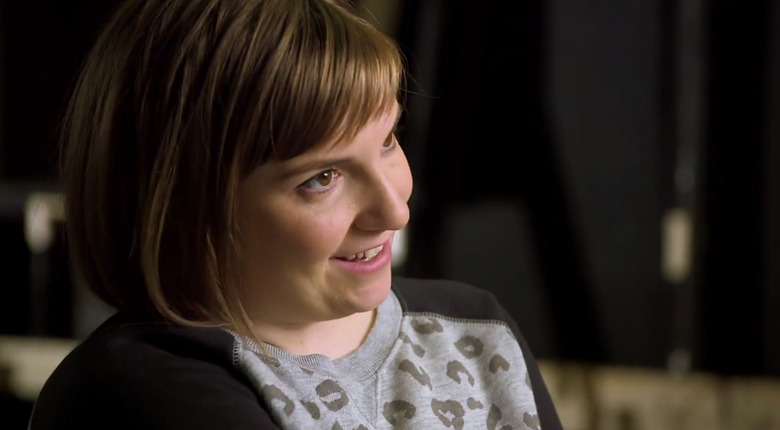 You can take the girl out of Brooklyn, but you can't take the Brooklyn out of the girl. As revealed in HBO's new Girls Season 4 preview, Hannah (Lena Dunham) is now a student in Iowa — but she's still the same old Hannah, endlessly impressed with her own progress toward maturity.
Meanwhile, the girls back in New York haven't changed a lot either. Marnie (Allison Williams), for example, continues to believe in her musical career no matter how obvious it is to everyone else that it's a terrible idea. Check in with Shoshanna (Zosia Mamet), Jessa (Jemima Kirke), and the rest of the gang in the Girls Season 4 preview after the jump.
The girls continue to be adrift and probably always will. It just wouldn't be the same show anymore if everyone got their act together. But they seem to be making smarter, more mature choices, at least. Hannah's even eating grapes as a snack, as she proudly points out during her Skype chat. So maybe the fun this season will be in seeing how their older, wiser decisions backfire on them all the same.
For example, there's Hannah's decision to attend the Iowa workshop. That was the big cliffhanger at the end of Season 3, but now that we know she's quite reasonably opted to go it seems to throw her relationship with Adam in jeopardy. (And no, that's not just a flimsy excuse to work around Adam Driver's Star Wars schedule; he's still contracted as a series regular through Season 4.)
Elsewhere, the promo teases Marnie's affair with Andrew (Ebon Moss-Bachrach) and pursuit of music, Ray's love life troubles, Shoshanna's parental issues, and possibly Jessa's troubles with the law. It also offers fleeting glimpses of several guest stars including Ana Gasteyer, Zachary Quinto, Gillian Jacobs, Jake Lacy, and Marc Maron. No sight of Spike Jonze or Natasha Lyonne yet, though.
Girls Season 4 premieres in early 2015 with ten episodes. In the meantime, keep an eye on girlsinproduction.com for behind-the-scenes updates.