Video: How A Projectionist Prepares A 70mm IMAX Print Of 'Interstellar'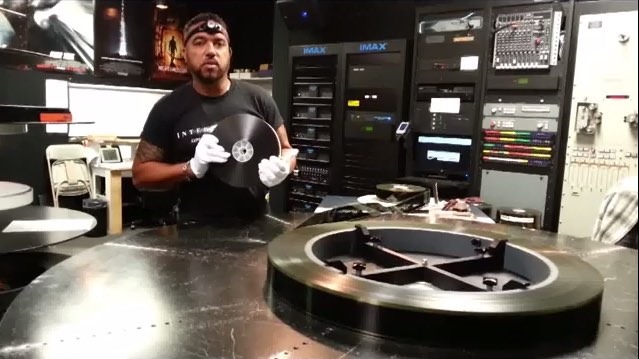 Fort Lauderdale Florida's AutoNation IMAX Theater Chief Projectionist Armando Mena recorded a video explaining how a 70mm print of Christopher Nolan's Interstellar is prepared and projected. I don't think many people realize just how big IMAX film really is, or how much work goes into projecting the 70mm film onto the huge IMAX screen. A few IMAX theaters I've visited have a room which lets you look into the projection room and see the huge IMAX film platter feeding into the IMAX projector before you watch the film. Seeing it in action, you can understand why the company is eventually abandoning celluloid for a digital laser projector system. I wish IMAX corporate would put together more informational videos like this one. You can watch the video from DiscoveryandScience embedded after the jump.
Below you can watch the IMAX Interstellar Print Assembly video created by the AutoNation IMAX Theater. Thanks to FirstShowing for the heads up:
Here is the official video description:
The Interstellar print is 60,288 feet long which equates to the length of 200 football fields! Christopher Nolan has embraced IMAX technology to provide moviegoers a differentiated experience by capturing sequences of Interstellar with IMAX's extremely high resolution cameras to deliver IMAX audiences greater scope and breathtaking image quality. Director Nolan filmed over one hour of Interstellar using 70mm IMAX cameras. Exclusively in IMAX® 70mm theaters, these sequences will expand vertically to fill the entire IMAX screen – delivering unprecedented crispness, clarity and color for a truly immersive experience.
And here is another video showing the IMAX preparation process:
And here is another video which tours the AutoNation IMAX 3D Theater projection room
And also a couple photos from twitter:
Christopher Nolan's Interstellar will be released in 70mm IMAX and 35mm cinemas starting on Tuesday November 4th 2014, before opening in wide release on November 7th. I highly recommend seeing the film in IMAX 70mm if you have a theater within your area.