First Look: 'Star Wars Episode VII' R2-D2 Has Plenty Of Wear And Tear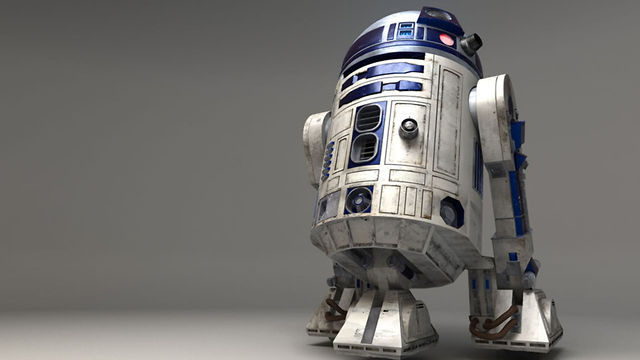 Star Wars Episode VII officially finished filming over the weekend. We know this both because of the note J.J. Abrams gave to crew members, and the photos and videos that appeared online from what looked to be a massive after-party. Among the attendees at the party was everyone's favorite astromech droid, R2-D2.
R2 was the first official cast member revealed from the film so it's kind of fitting he's also the first we get to see in all his Episode VII glory. Now, don't expect some massive spoiler or surprise here. It's just R2-D2, but this is definitely an R2-D2 that's seen another few decades of action. Check out the Star Wars 7 R2D2 below.
Now, R2 first appeared in this photo from John Boyega's Instagram. (He's still on that social media channel despite getting off Twitter.)
Head there for some more videos from the party too, including one with co-star Daisy Ridley.
But in that photo, you can't really see that much. A user on The RFP (via Star Wars Underworld) posted some better photos from the event, that show this R2 – which reportedly is screen used  - in much more detail.
I mean look. It's R2-D2. But he's not the crisp, gleamy R2 of the medal ceremony in A New Hope. I think that's the takeaway here. R2 is dirty, he's a bit battered. Time is beginning to take its toll on a droid who has been around for going on 50 years and has been destroyed at least one or two times. The big question is, will he make it through this sequel and continue on into Episodes VIII, IX and beyond? I think it's a safe bet but, eventually, R2 and his pal C-3PO might go away.
On that point, a few months back, Anthony Daniels talked about how he'd like to see CPO (get it?) go into the sunset:
I think he would go on. Getting spare parts, getting surgery. And I think the people around him, humans and droids alike, would help because he would become part of their daily lives, part of their environment. They wouldn't want to let him go. You know, I'm a great do-it-yourself person at home. I mend pretty much anything I can, whether it's melting plastic with a hot skewer from the stove because the plastic is cracked, or with my glue gun mending this or that, or cannibalizing a part from something else that I kept in the workshop. I will keep objects going. I'm not from the throw-away culture, I'm from the make-and-mend culture. Threepio is nice to have around. I think he would go on and on and on.
Star Wars Episode VII opens December 18, 2015.