'Furious 7' Trailer: "Just When You Didn't Think It Could Get Any Better, Huh?"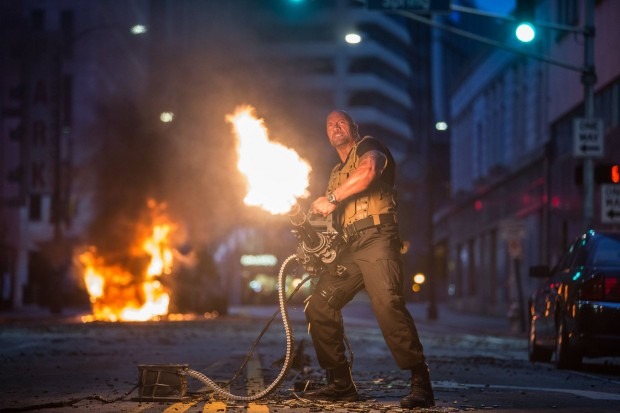 The unstoppable Fast & Furious series continues next spring with Furious 7, and today we have a first look at same. The high-speed sequel brings back franchise favorites like Vin Diesel, Paul Walker, Dwayne Johnson, and Michelle Rodriguez, while adding fresh faces like Jason Statham and Kurt Russell. James Wan directs. Watch the first Furious 7 trailer after the jump.
Furious 7 was originally slated for a summer 2014 release before Walker's death pushed back production. Filmmakers scrambled to find a way to work around his absence, and to honor his legacy without weighing down a lightweight blockbuster movie. It's bittersweet to see him now in his final film.
That bit of sadness aside, the Furious 7 trailer is jam-packed with exactly the kind of ridiculous, over-the-top shenanigans that this series is beloved for. There are fancy cars, big guns, beautiful women, handsome men, and physically impossible stunts galore. Of course Walker nearly falls over a cliff before leaping onto a speeding vehicle. Of course Johnson rips off his own cast to go mano-a-mano with a bad guy. Dom mumbles something about this being "one last ride," but somehow we doubt Furious 7 will have trouble making enough money to make a Furious 8 happen.
Furious 7 drives into theaters on April 3, 2015.
Continuing the global exploits in the unstoppable franchise built on speed, Vin Diesel, Paul Walker and Dwayne Johnson lead the returning cast of Furious 7. James Wan directs this chapter of the hugely successful series that also welcomes back favorites Michelle Rodriguez, Jordana Brewster, Tyrese Gibson, Chris "Ludacris" Bridges, Elsa Pataky and Lucas Black. They are joined by international action stars new to the franchise including Jason Statham, Djimon Hounsou, Tony Jaa, Ronda Rousey, Nathalie Emmanuel and Kurt Russell. Neal H. Moritz, Vin Diesel and Michael Fottrell return to produce the film written by Chris Morgan.