Clive Barker Offers Some Info On His 'Hellraiser' Reboot Script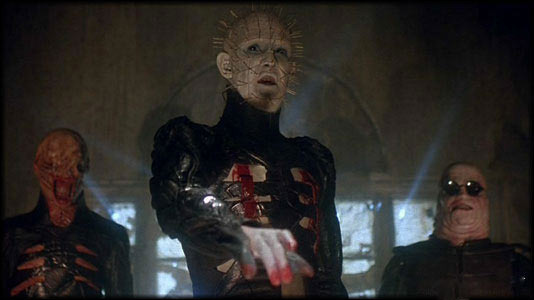 Like the torn-apart Frank Cotton in the original film, Hellraiser keeps trying to pull itself back together. Harvey Weinstein has experimented with reboot and sequel ideas for the past few years, attaching a couple different directors at different times for projects that ultimately failed. But a year ago Clive Barker revealed that he had pitched Weinstein on a loose remake idea that the producer liked. Suddenly, Barker was reunited with his directorial debut and working on the newest version of the tale.
Now Barker has finished the second draft of the film that will reboot and expand upon the story seen in the original Hellraiser. (And which was created in Barker's novella The Hellhound Heart.) A few details are below, thanks to the author.
EW spoke to Barker on the occasion of the release of the Nightbreed director's cut blu-ray, which finally presents Barker's 1990 film in a cut that resembles his original intentions.
Talking about that movie is also a good excuse to bring up Hellraiser, the "very loose remake" of which continues to develop:
I think the phrase is 'reboot,' although I've never really understood what that meant. I wanted to make sure we sounded some fresh notes. The movie actually begins on Devil's Island. I wanted to fold into the Hellraiser narrative something about the guy—the Frenchman Lemarchand—who made the mysterious box, which raises Pinhead. I figured, 'Well, what would have happened to him?' He might well have been taken to Devil's Island [a penal colony] and I thought that would be a pretty cool place to start the movie. We're waiting for Bob to come back to us and see when we're going to actually make the movie.
In Barker's original novella, Lemarchand was one of a few people who had devised a method of communicating with the extra-dimensional Cenobites. (That group includes Pinhead, who became the film series' poster child.) Lemarchand has been portrayed on film before, in Hellraiser IV: Bloodline, the last film in the series to get a theatrical release. (There are five more direct to video sequels. The last one, Hellraiser: Revelations, was made in a matter of weeks so that the Weinsteins would retain rights to the franchise.)
The idea of Barker writing the reboot is pretty good, but at the same time I'm a lot less interested in further explorations of the same ideas already seen in the Hellraiser films than I would be in development of other concepts related to what we already know. But I'm not assuming anything just yet; let's see where Barker's script goes.
And while Barker plans only to write this reboot, with directing duties left to someone else, he could get back into the chair eventually:
We've got some really cool things coming down the pike. They're movies which I'm able to watch over as a producer rather than as a director, [but] each time another thing gets added to the rest of the things that we're doing, I get more tantalized by the idea of actually doing it as a director myself. So, I don't think I'll wait too long until I sign on for something myself.