Rob Zombie Shoots '31' In February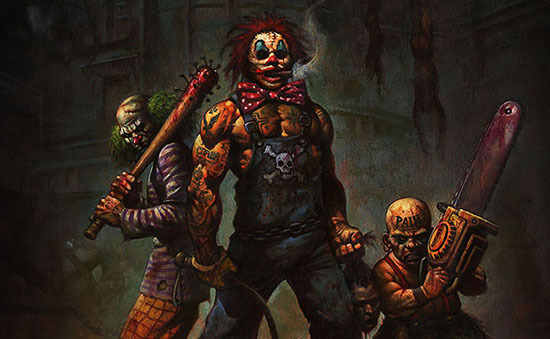 Rob Zombie launched a crowdfunding campaign for a new film, 31, earlier this year. (The film's title, perhaps obviously, references Halloween, but this is not a Halloween film.)
That campaign, despite launching with an undefined financial goal, was evidently a success. Now Zombie is pushing forward with international sales planned for the American Film Market, starting next week. And then, assuming things go well the film, about a kidnapped group of people forced to compete in and hopefully survive a place called Murder World, will shoot in February of next year.
THR has news about the AFM sales. The plot as we know it is:
Five carnival workers are kidnapped the night before Halloween and held hostage in a large secret compound known as Murder World, where they have 12 hours to survive a game called 31 in which murderous maniacs dressed as clowns are released to hunt them down and kill them.
The concept art above is from Zombie's early crowdfunding push, and you can see a lot more art where that came from. (Much of it is very not safe for work.)
Zombie says of the film,
I love movies about Halloween, in fact my first film, 'House Of 1000 Corpses,' is set on Halloween. In looking for a new angle I found that more people go missing and are never found this day than any other in the year. I thought that's a good premise for a film. Add in the fact that everyone I know seems to really hate clowns and now you got a film and without the fans raising funds and helping to build buzz, a crazy film like this would have been almost impossible to get off the ground. I owe the fans big time on this one.
There's no cast info for 31 yet, and no potential release date. Though if the February shoot goes well, it's not out of the question that we might see the film by next Halloween.