'The SpongeBob Movie: Sponge Out Of Water' Trailer: Preview 2015's Goofiest Superhero Movie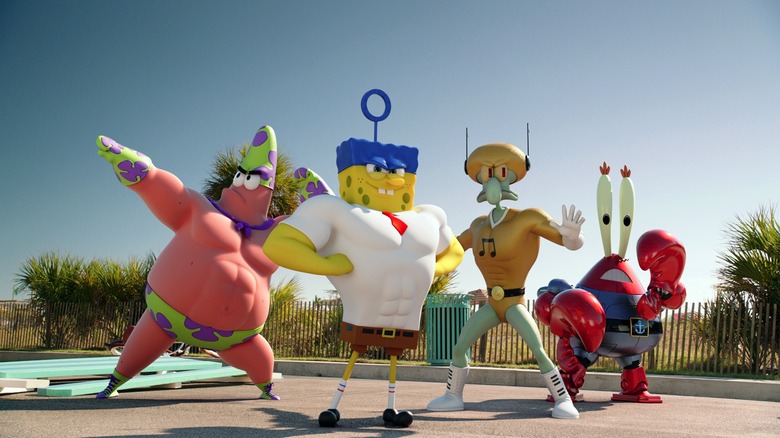 Here's a superhero movie that's a little different from the rest: The SpongeBob Movie: Sponge Out of Water, out next year, sees the underwater gang heading to our shores in search of more Krabby Patties. But when they cross paths with a pirate supervillain played by Antonio Banderas, they must turn themselves into superheroes to save their beloved Bikini Bottom.
It's exactly as bonkers as it sounds, but that's the fun. Watch the new SpongeBob Movie Sponge Out of Water trailer after the jump.
[via THR]
There's no question The SpongeBob Movie: Sponge Out of Water is aimed at kids, but it's not so dumb adults will be turned off. (More likely it'll be the manic energy and eye-searing colors that'll repel them instead.) There are some really good jokes here — like the instant apocalypse sight gag followed by the dire warning, "Welcome to the apocalypse. I hope you like leather."
Speaking way back in July, voice actor Tom Kenney told press:
There is a live-action climax, but it's still rated G. It's a big, bombastic superhero tweak, where we tweak these big end-of-the-world movies, the Superman and Avengers movie, where cities get leveled. ... This is extremely cartoony, the wacky version of that. We get to see a buffed-up, pumped-up SongeBob and his friends in superhero form, SpongeBob becomes The Invincibubble, who has these weird bubble powers.
Overall, The SpongeBob Movie: Sponge Out of Water just looks really, really weird. When the footage was shown at Comic-Con's Hall H this year, the reaction was a big fat WTF — and this from a crowd perfectly willing to buy into notions of superpowered vigilantes and alien man-wolf hybrids. But maybe a big fat dose of weird is exactly what we need to shake up the usual family film fare.
The SpongeBob Movie: Sponge Out of Water opens February 6, 2015. And with that, the word "sponge" has lost all meaning for me. Sponge. Sponge. Does the word look really strange to anyone else?