Rumor: Sony Mulling Team-Up Film Starring Female Spider-Man Characters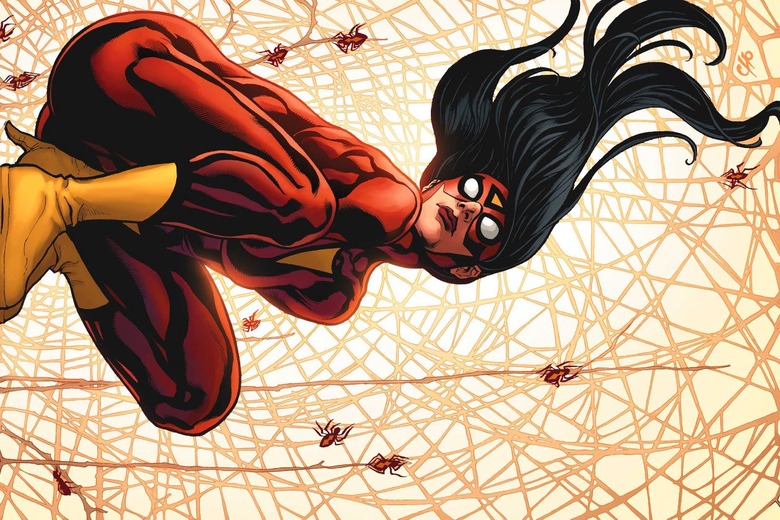 What's going on with Spider-Man over at Sony? Great question! The guy seems all... tangled up in...string, er, webs. That is, plans. Anyway, you get it. Seems like a bit of a mess over there.
A third Amazing Spider-Man film is planned, with a scheduled release in 2018, and before that we'll (maybe) get the bad guy team-up movie Sinister Six. That film has been described as a Dirty Dozen sort of story with Spidey basically in the Lee Marvin role, working with the villains. That's one conception of it, at least. There's talk of a "soft reboot" of the series, culling out a lot of the more poorly-received aspects of the last two films while retaining the basic aspects. We don't know what's up with the mooted Venom movie, and there are rumored plans for a solo film highlighting one of the women in the Spider-Man character roster.
Now there's a new rumor of a project going by the code name Glass Ceiling. This one concerns a bunch of the female hero and anti-hero characters from Spider-Man's history, and could team them up into a single film. Assuming it gets that far, at least. Get the Glass Ceiling details, such as they are, below.
Badass Digest has the basic report, but even Devin has to speculate on the character roster that might be involved here. He mentions a couple obvious choices such as Black Cat, Spider-Woman and Silver Sable, and a couple lesser ones such as Spider-Girl and the new character Silk, who gets her powers after a bite from the same spider that changed Peter Parker.
There's also reason to wonder about Firestar, the character first created for the Spider-Man and His Amazing Friends cartoon series, who eventually migrated into comic books. (Technically, however, Firestar is a mutant allied with the X-Men, so Fox could actually have her rights.)
You can see this is all big rumor mill stuff, but Devin has been right about a lot this year, from Star Wars to Marvel's line-up and other projects. I'd put the uncertainty of the report down to the fact that Sony doesn't seem to have a plan locked down, more than anything else.
A report like this wouldn't have even been credible a few years ago, so it is heartening to be at a point where studios would even consider this as a viable plan. It's not the equality in on-screen representation we'd like to see, but it could be a small step towards it.