'Terminator: Genisys' Storyboards Tease A Big Battle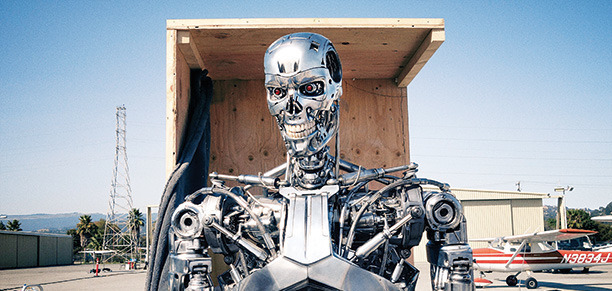 The first official publicity photos for Terminator: Genisys haven't been great, frankly speaking. But they did leave us wanting to see more, if only to reassure ourselves that the actual movie will look much better.
Sadly, we have a bit of a wait until that can happen since the Terminator: Genisys trailer isn't here quite yet. In the meantime, though, you can whet your appetite with these new Terminator: Genisys storyboards, which tease a big battle sequence involving John Connor (Jason Clarke) and Kyle Reese (Jai Courtney).
See the Terminator Genisys storyboards after the jump.
Working left to right and top to bottom, here are the accompanying captions:
Endoskeletons outside a work camp
John Connor and Kyle Reese fighting off endoskeletons
Connor during the Future War
Connor, Reese, and the rebels in battle as helicopters drop tanks in the background
A frozen endoskeleton in the foreground as Connor and Reese pass by
How nice that Connor and Reese will get some father-son bonding time. As far as family activities go, fighting off robots seems a lot more exciting than throwing a ball or playing Monopoly.
Here's how the magazine previously described the story:
The beginning of Terminator: Genisys, the first of three planned films that Paramount hopes will relaunch the beloved sci-fi franchise, is set in 2029, when the Future War is raging and a group of human rebels has the evil artificial-intelligence system Skynet on the ropes. John Connor (Dawn of the Planet of the Apes' Jason Clarke) is the leader of the resistance, and Kyle Reese (Divergent's Jai Courtney) is his loyal soldier, raised in the ruins of post apocalyptic California. As in the original film, Connor sends Reese back to 1984 to save Connor's mother, Sarah (Game of Thrones' Emilia Clarke), from a Terminator programmed to kill her so that she won't ever give birth to John. But what Reese finds on the other side is nothing like he expected.
Paramount has Terminator: Genisys set to open July 1, 2015. Alan Taylor is directing. Emilia Clarke and Matt Smith also star.