Peter Berg's POV 'Call Of Duty' Ad Stars Taylor Kitsch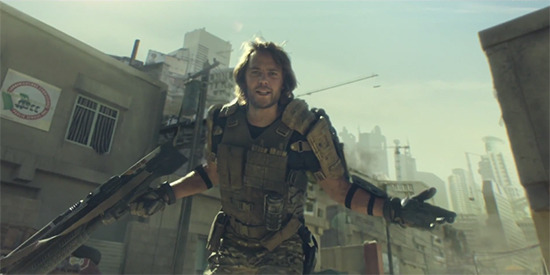 Peter Berg and Taylor Kitsch have stuck by one another for years, beginning with Friday Night Lights and carrying through Battleship and last year's Lone Survivor. Now they've teamed up for an entirely different sort of combat engagement. Kitsch stars in Berg's first-person Call of Duty ad — a live-action affair that, like the game series, puts the viewer in the primary role. Then it throws a set of sad cliches at us. Catch 'em all below. 
Berg says that he created the ad to represent things that can actually be done in-game, so this is as close to a live-action version of the game as fans might get. Some of the POV technique here is great, even though it moves so quickly that we aren't offered a chance to wonder where they're fighting, and why. It's a game. You just fight. Though this is more like party-fighting — look how much fun Kitsch is having!
And then, for no reason, Emily Ratajkowski shows up, more in a 'Blurred Lines' than Gone Girl sort of way. Because just in case this wasn't already calculated to appear to as many young dudes as possible, here's a lady! And she's dressed for battle, if by "battle" you mean the impending wet t-shirt pillow fight that takes place in some imaginary land that is even farther from reality than the rest of this trailer.
She's really a goat, though, so it's OK. Male gaze? Let's talk about that goat gaze.
But the tagline is the best, tone-deaf-est part: "Power Changes Everything." That phrase means something that I don't think anyone involved with this ad intended. Maybe the power to co-opt another country's strife for entertainment; or power to co-opt sex to sell war games. But there are no politics here, it's just a game. It's fun. Right?
Trailer via Activision. The song, in case the lyrics didn't make it pretty clear, is 'Salute Your Solution,' by the Raconteurs.