First Look: The Bennet Sisters Get A Horror Makeover In 'Pride And Prejudice And Zombies'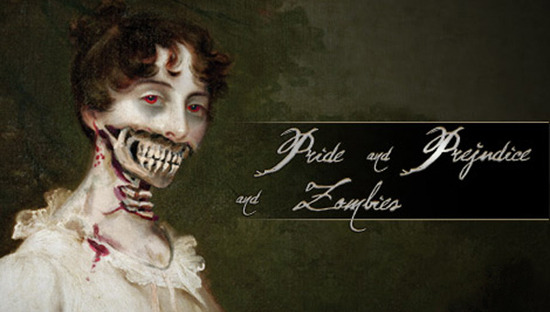 After years of on-again, off-again development, Pride and Prejudice and Zombies finally went in front of cameras last month. And today, we have our first look at some of the results.
Directed by Burr Steers and adapted from the book by Seth Grahame-Smith, Pride and Prejudice and Zombies adds an undead spin to the Jane Austen classic. Lily James and Bella Heathcote star. See the first Pride and Prejudice and Zombies image after the jump.
UPDATE: We've included a better version of the image.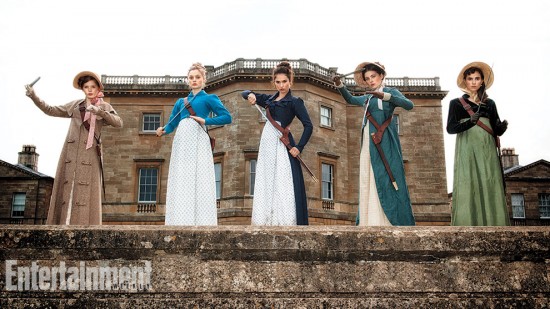 The sisters are, from left to right: Lydia (Ellie Bamber), Jane (Heathcote), Elizabeth (James), Mary (Millie Brady), and Kitty (Suki Waterhouse).
Zombies are nothing new to these gals — the plague has been raging for over 70 years by the time Pride and Prejudice and Zombies picks up. So while they fret over marriage prospects and family drama, just like their Austen-penned counterparts, they also get martial arts and weapons training to fight off the "sorry stricken."
Although that sounds a little nutty at first, James argues her Elizabeth isn't so different from the original. "Even in the original story, Elizabeth's a fighter and beyond her contemporaries in her ambitions and her ideas of women," she said. "She's a badass warrior. She's a ninja."
Pride and Prejudice and Zombies was put into development more than five years ago, and went through a number of director-star combinations before finally landing on Steers and James. Once he was attached, Steers rewrote the script to add more realism, beef up the male roles, and "reinsert all the Pride and Prejudice beats."
Rounding out the cast are Sam Riley as Darcy, Jack Huston as Wickham, Douglas Booth as Bingley, Matt Smith as Mr. Collins, and Lena Headey and Charles Dance. Pride and Prejudice and Zombies opens sometime in 2015.