Star Wars Halloween Special To Air On ESPN2 [Weird Corporate Synergy]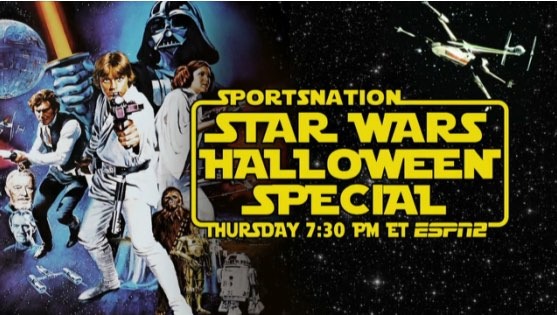 In 1978, the Star Wars Holiday Special aired on CBS. It quickly became one of the most infamously horrible pieces of Star Wars history. (Until the prequels, that is, hey yo!) Aside from a cartoon that introduced us to Boba Fett, the television special was notoriously bad, showing us Life Day on the Wookiee home world of Kashyyyk where Bea Arthur sings musical numbers. Anyway, moving on...
In a new weird move of strange corporate synergy, Disney is going to air a Star Wars Halloween Special... on ESPN 2 on October 30th 2014. Will this new Star Wars television special go down in flames like the previous Star Wars Holiday special? Details after the jump.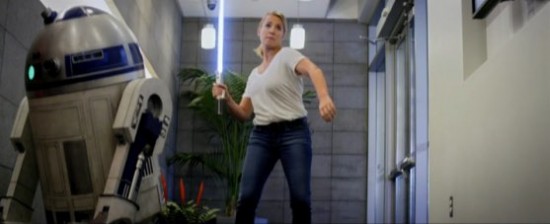 Disney and LucasFilm have apparently teamed with their sports television network ESPN2 on a Star Wars-themed SportsNation special. It will air October 30th 2014 at 7:30 p.m. ESPN2 has also revamped the SportsNation set to look like the inside of Han Solo's spaceship, the Millennium Falcon. The half-hour television special will reportedly feature "the majority of the main characters from the Star Wars franchise — including Han Solo, Boba Fett, Yoda, Darth Vader, R2D2, Chewbacca and C-3PO — as well as Chopper from Disney XD's Star Wars Rebels."
The Hollywood Reporter premiered the opening of the Star Wars SportsNation special which features host Michelle Beadle as a Jedi tasked to save Max Kellerman and Marcellus Wiley. You can watch that now embedded below:
The SportsNation Star Wars Halloween Special will apparently highlight sports clips under Star Wars-inspired category titles like "Best Jedi Mind Trick" and "Most Unstoppable Skywalkers". What was that sound? Was that a Chewbacca-sounding groan coming from inside your inner Jedi? Thats what I thought.
On the bright side, it wouldn't be synergy if it wasn't designed to promote a product currently available: The Halloween special will premiere an exclusive sneak peek at an upcoming Star Wars Rebels episode, because thats what people watch ESPN for, right?