'Serena' Trailer: Jennifer Lawrence And Bradley Cooper, Together Again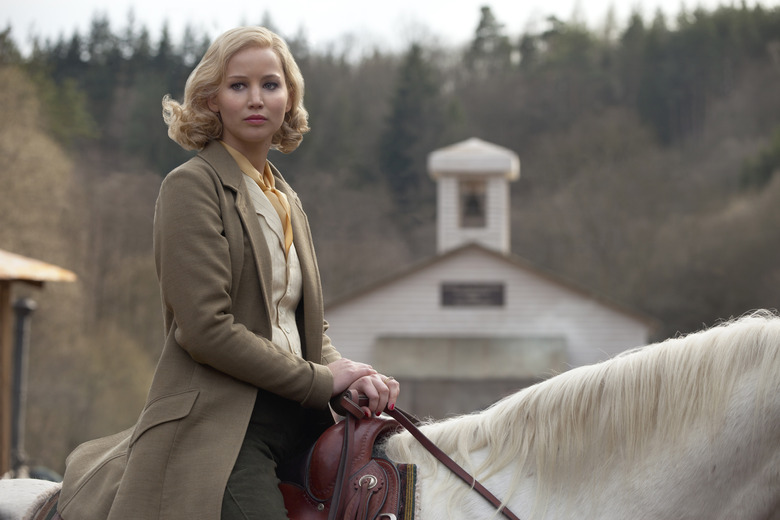 Between 2011 and 2013, Jennifer Lawrence and Bradley Cooper made three films together. Two of those, Silver Linings Playbook and American Hustle, both from director David O. Russell, have already come and gone. But the last, Susanne Bier's Serena, is only now preparing for a theatrical bow.
Based on the novel by Ron Rash, Serena stars Lawrence and Cooper as a married couple overseeing a timber empire in 1920s North Carolina. But when the wife makes some unpleasant discoveries, their relationship takes some dark turns. Watch the new Serena trailer after the jump.
What exactly is taking Serena so long to hit theaters is unclear. Magnolia picked up the film for U.S. distribution last month amid reports that the film was a nonsensical disaster, but insiders involved with the production have insisted that Bier's perfectionistic tendencies are what held the film up.
It's probably not a good sign that a film that sounds this Oscar-bait-y on paper is getting barely any notice in reality. Or that Serena has mostly stayed away from the big festivals where films like this usually go to attract attention. But the trailer doesn't look so bad, and Cooper and Lawrence still make for an appealing combo. Maybe it'll be worth a peek when it opens March 27, 2015.
North Carolina mountains at the end of the 1920s – George and Serena Pemberton, love-struck newly-weds, begin to build a timber empire. Serena soon proves herself to be equal to any man: overseeing loggers, hunting rattle-snakes, even saving a man's life in the wilderness. With power and influence now in their hands, the Pembertons refuse to let anyone stand in the way of their inflated love and ambitions. However, once Serena discovers George's hidden past and faces an unchangeable fate of her own, the Pembertons' passionate marriage begins to unravel leading toward a dramatic reckoning.