'Captain Marvel' Movie Set For 2018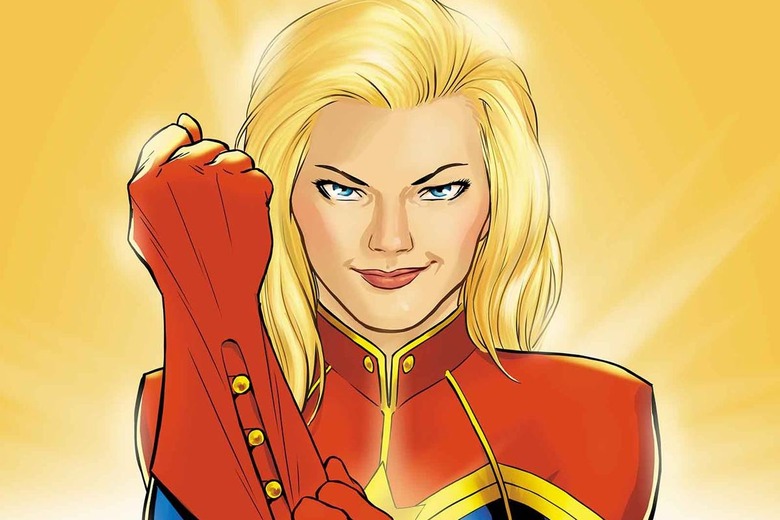 Fans have been clamoring for a Captain Marvel movie for years, and Marvel has finally answered in the affirmative. At today's event, Marvel Studios confirmed a Captain Marvel movie in the works for July 6, 2018. And yes, they mean the Carol Danvers one.
More details and your first look at the official logo below.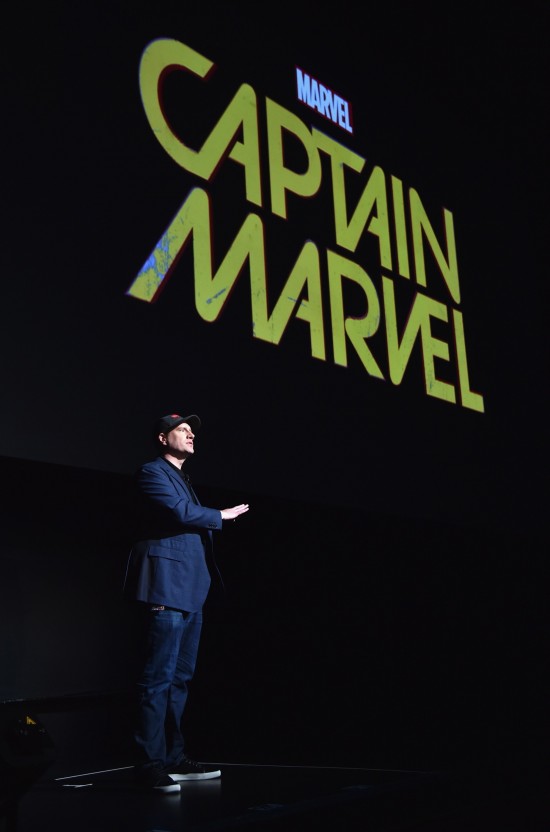 The first Captain Marvel was created in the '60s and was the name of a Kree Imperial Militia officer. The mantle has gone through various other figures over the decades including Monica Rambeau. Carol Danvers took over the Captain Marvel name in 2012. Prior to that, Carol Danvers had been known as Ms. Marvel. She made her original Marvel Comics debut in 1968.
Kevin Feige confirmed at the event that this Captain Marvel movie would revolve around Carol Danvers. He described her as "earthbound and cosmic," and "one of if not the most powerful character in the MCU."
The announcement makes Captain Marvel the first female hero in the Marvel Cinematic Universe to get a standalone movie. Although Feige and others at Marvel have fielded many questions about a female superhero, they've remained stubbornly vague about their specific plans until now. It's great to see them finally make good on their promises.
On the down side, though, this may suggest the odds of a Black Widow movie taking place are lower than ever. At the very least, it looks like there won't be one in the next five years. But hey, if it's any consolation to Scarlett Johansson, it doesn't look like her Avengers teammates Hawkeye or Hulk are likely to fly solo in the near future either.
No casting has been announced for Captain Marvel. But of course, as with any potential new Marvel movie, there always seems to be a rumor or two floating around. As of last year, Katee Sackhoff was rumored to be in the running, though nothing has come of that speculation as of yet. Who would you want to see star as Captain Marvel?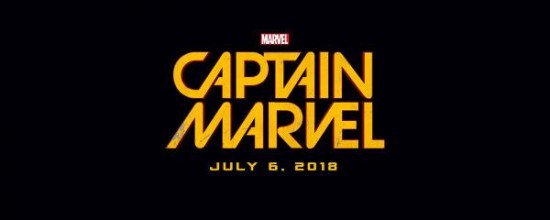 Carol Danvers has set a flight path straight into the Marvel Cinematic Universe!
The super heroine will make her debut in Marvel's "Captain Marvel" on July 6, 2018, headlining the first female-led film from Marvel Studios. President Kevin Feige made the announcement at a special event revealing the full lineup of the Marvel Cinematic Universe's Phase 3 at the El Capitan Theatre in Hollywood.
"This Captain Marvel's name is Carol Danvers," said Feige. "This film has been in the works almost as long as Doctor Strange or Guardians of the Galaxy before it came out, and one of the key things was figuring out what we wanted to do with it. Her adventures are very earthbound, but her powers are based in the cosmic realm."
While we can't say much more than that just yet, stay tuned to Marvel.com for the latest on "Captain Marvel" and the rest of the Marvel Cinematic Universe as it develops!