'A Girl Walks Home Alone At Night' Trailer: Putting A Unique Stamp On Vampire Movies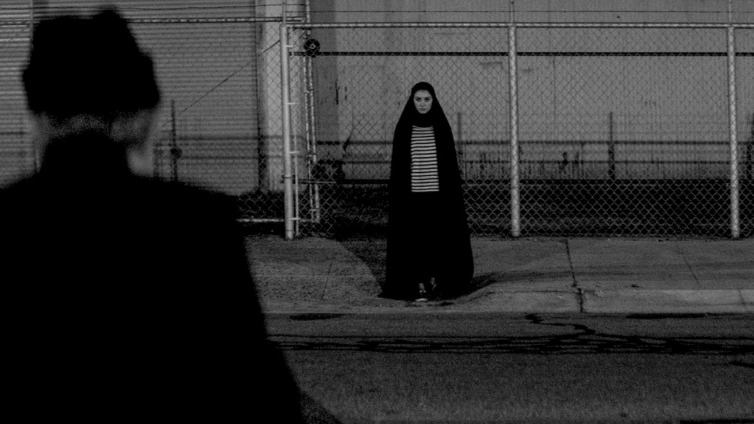 A Girl Walks Home Alone at Night is a stylish and moody feature debut from very promising writer/director Ana Lily Amirpour. In this film, Amirpour combines a hearty set of influences — Iranian culture, Westerns, rock and roll films, and horror icons — to create a unique take on the vampire genre. It's a sultry and compelling film, with all the energy of the late '80s and early '90s independent scene but a personality that isn't quite like any of the influences it draws from. I can't wait to see what Amirpour does next; in the meantime I'm ready to see this one again. Check out the new A Girl Walks Home Alone at Night trailer below.
A Girl Walks Home Alone at Night Trailer
Kino Lorber will release A Girl Walks Home Alone At Night in New York and Los Angeles on November 21st, with national expansion to follow. Trailer via Vice.
Strange things are afoot in Bad City. The Iranian ghost town, home to prostitutes, junkies, pimps and other sordid souls, is a bastion of depravity and hopelessness where a lonely vampire stalks its most unsavory inhabitants. Cinema's first Iranian vampire western, Ana Lily Amirpour's debut feature basks in the sheer pleasure of pulp. A joyful mash-up of genre, archetype, and iconography, its prolific influences span spaghetti westerns, graphic novels, horror films, and the Iranian New Wave. Amped by a mix of Iranian rock, techno, and Morricone-inspired riffs, its airy, anamorphic, black-and-white aesthetic and artfully drawn-out scenes combine the simmering tension of Sergio Leone with the weird surrealism of David Lynch.