A 'Batman And Robin' Sequel Is Coming In Comic Book Form [UPDATED]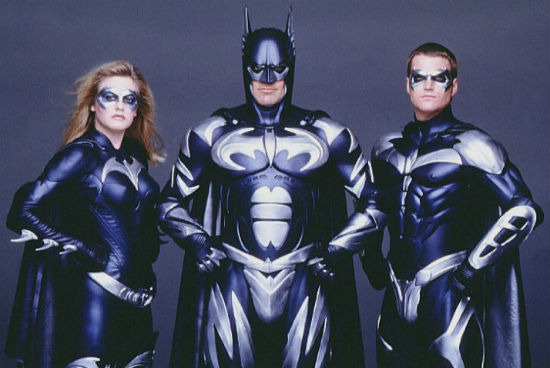 There are plenty of Batman fans who'd like to forget the Joel Schumacher films ever existed. Even the director himself sounds apologetic when he talks about his second one, admitting he "didn't do a good job." But now he's actually going back to revisit that world, in comic book form.
A new report indicates Schumacher is writing a Batman and Robin sequel, which will be drawn by Dustin Nguyen. The twelve-issue series is based on Batman Triumphant, the never-made third film in the Schumacher Batman trilogy. Hit the jump for more on the Batman and Robin sequel.
UPDATE: Schumacher has denied the Batman and Robin sequel comic reports, as reported by Bleeding Cool.Bleeding Cool got the scoop and notes that an announcement will likely come once more of Schumacher's scripts for the comics are in. Batman Triumphant was originally conceived of as a cinematic sequel to Batman and Robin, but movie plans were scrapped following the awful reactions to Batman and Robin.Mark Protosevich wrote the original Batman Triumphant screenplay. According to the Batman Wiki, it had the Scarecrow as the main villain. His fear toxin brings back the Joker as well, as a hallucination in Batman's mind. Meanwhile, Harley Quinn would have appeared in a supporting role as the Joker's daughter, bent on revenge for her father's death.
A Batman and Robin sequel probably isn't something a lot of people were clamoring for, but to his credit Schumacher is perfectly willing to admit fault for how that film turned out. He told Variety in a recent interview that the trouble started with the last-minute casting change.
No, Val left at eleventh hour to do "The Island of Dr. Moreau." It changed everything. George made a noble effort. I was the problem with "Batman & Robin." I never did a sequel to any of my movies, and sequels are only made for one reason: to make more money and sell more toys. I did my job. But I never got my ass in the seat right. [...] They immediately wanted a sequel, but I said yes. There's nobody else to blame but me. I could have said, "No, I'm not going to do it." I just hope whenever I see a list of the worst movies ever made, we're not on it. I didn't do a good job. George did. Chris [O'Donnell] did. Uma [Thurman] is brilliant in it. Arnold is Arnold.
Casting obviously won't be a problem for Batman Triumphant, so hopefully the new comic book series will be a good chance for Schumacher to do his original vision justice. It's a win-win for Bat-fans: if it goes well, it could help redeem Schumacher in our eyes; if it doesn't, we can all breathe a sigh of relief for having dodged a bullet.