Cool Stuff: Hot Toys The Amazing Spider-Man 2 Sixth Scale Figure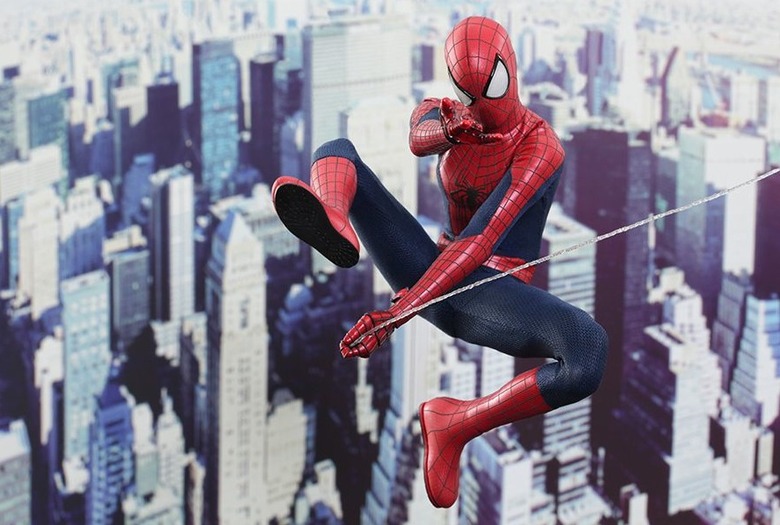 Sideshow Collectibles sent me a sample of Hot Toys' The Amazing Spider-Man 2 Sixth Scale Figure. Lets unbox this figure and take a look at whats inside the box. After the jump you will find photos of the Hot Toys The Amazing Spider-Man 2 Sixth Scale Figure, alongside my thoughts on the product.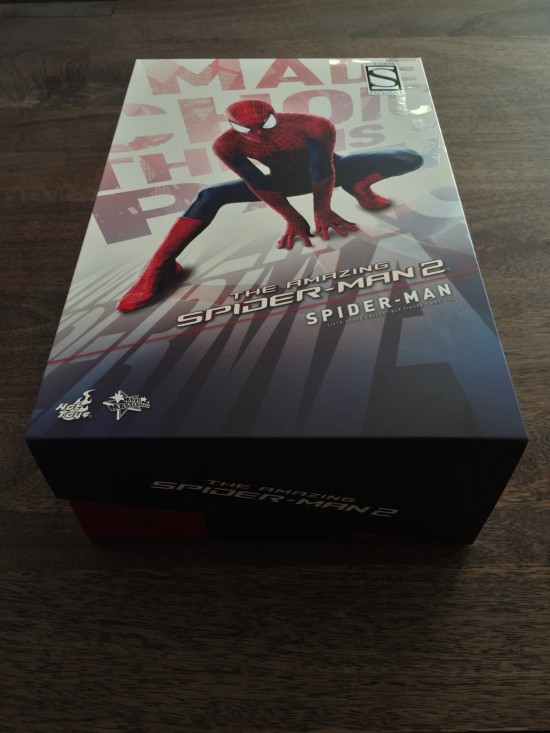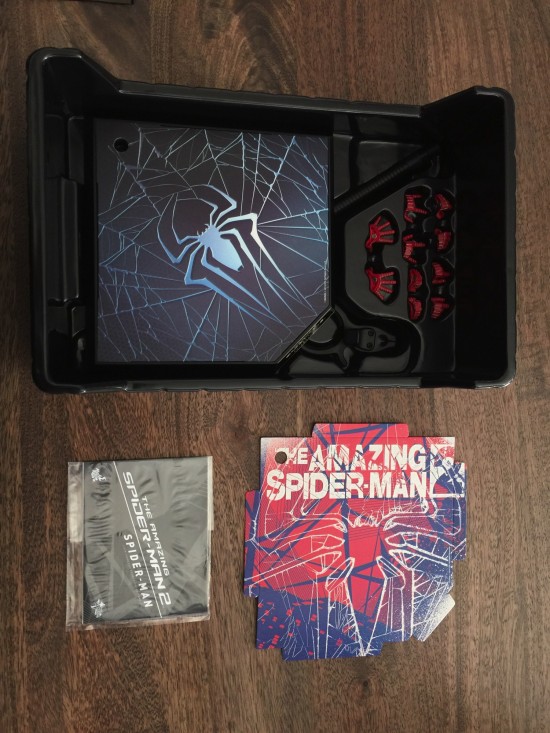 While I didn't hate Sony's The Amazing Spider-man reboot as much as most people, I wasn't a big fan of the sequel, The Amazing Spider-Man 2. But my problems with that film are mostly involved with the villain storylines — I actually enjoyed the stuff between Peter and Gwen. But I decided to take a look at this newest Hot Tyos release mainly because I like the Amazing Spider-man suit design better than the suit Tobey Maguire wore in the Sam Raimi films.
Sideshow/Hot Toys The Amazing Spider-Man 2 Sixth Scale Figure Reviewed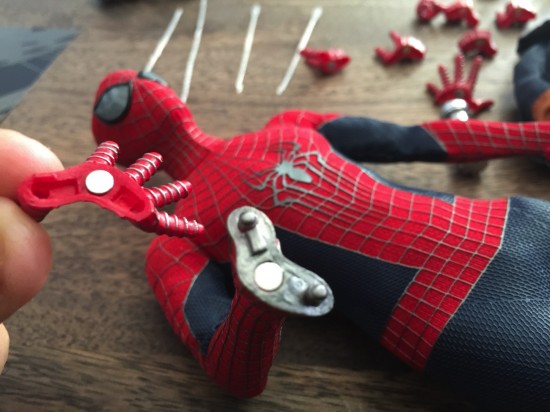 The 1/6th scale Spider-Man Collectible Figure replicates the red and blue colored Spider-Man suit from the new film, embossed with grayish black cobweb pattern and black spider emblem on chest. The figure stands almost 12 inches tall, and features 30 points of articulation. Accessories include six pairs of interchangeable palms with black cobweb pattern: fists, relaxed palms, cobweb shooting, cobweb swinging, open palms, and holding palms. On one hand, I'm happy they included so many different palm variations for this figure as it allows you to put Spider-man in so many different classic and modern poses. On the other hand, I do wish they had made the entire hand interchangeable instead of just half of the hand, because sometimes the connected result doesn't look too great.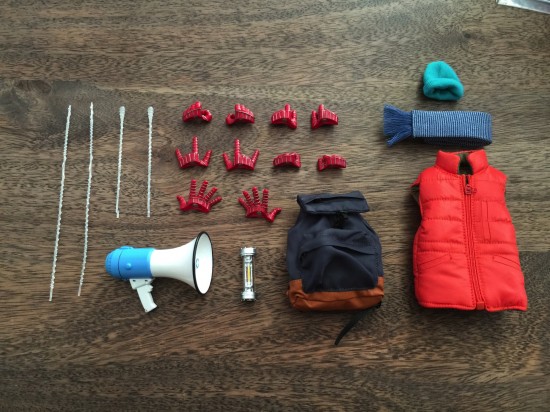 Clothing accessories include Peter Parker's orange and green vest, a blue and white striped scarf, a light blue beanie, and his blue and brown backpack. The figure also comes with a replica of the megaphone Spider-man uses in the sequel.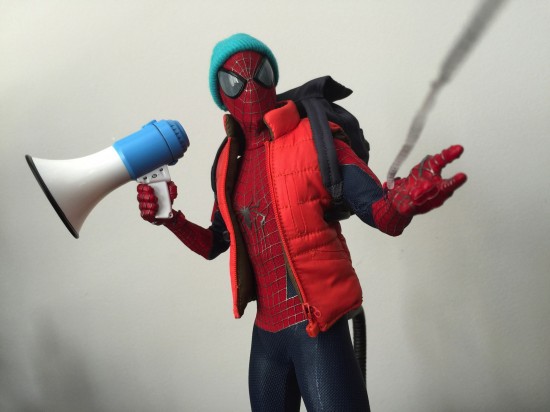 Its disappointing that Hot Toys did not include an interchangeable head sculpt of unmasked Peter Parker (maybe to avoid Andrew Garfield's likeness rights?). I would have rather had that then a replica of Peter Parker's winter disguise, which I doubt will be used on display by anyone who purchases this figure.
The figures comes with four strips of cobweb, two for imitating a swinging post, and two more for replicating a cobweb shooting pose. The figure is posable on black flexible pillar attached to a diamond-shaped figure stand with Spider-Man nameplate and a interchangeable black movie logo and red and blue graffiti style design.
I do like that they included multiple options for the stand design, which I haven't seen in other figure releases. I've said this before, and I'll say this again — I wish they wouldn't paint the flexable rod that holds the figure in a black color as its very blunt when on display. I wish there were a way to produce a clear rod or a much less noticeable display solution, especially with a figure like this where many will be posing the figure flying through mid air.
The 3D texture of Spider-man's costume is far and away the most impressive part of this figure, and is what makes it stand out against other cheaper figures and statues. Like or hate the recent Spider-man sequel, this figure looks cool on display and should make any Spidey fan happy.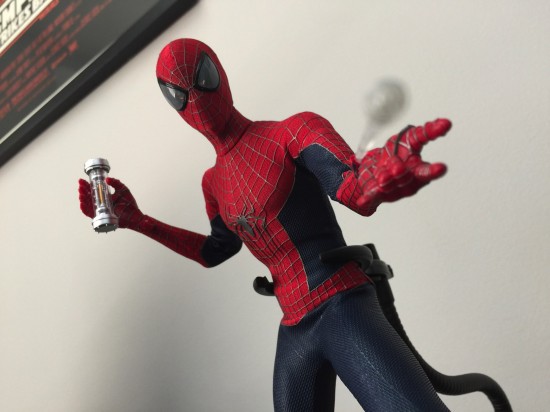 Here is the official product description for the Hot Toys The Amazing Spider-Man 2 Sixth Scale Figure:
Sideshow Collectibles and Hot Toys are excited to announce the new 1/6th scale Spider-Man collectible figure from the film The Amazing Spider-Man 2. Swinging into action, the movie-accurate Spider-Man collectible is specially crafted based on the image of Spider-Man in the film. Featuring a newly developed Spider-Man suit and highly detailed accessories.
The Hot Toys The Amazing Spider-Man 2 Sixth Scale Figure is sold in the US by Sideshow Collectibles for $229.99.