'Late Phases' Trailer: "Can You Make Silver Shotgun Shells?"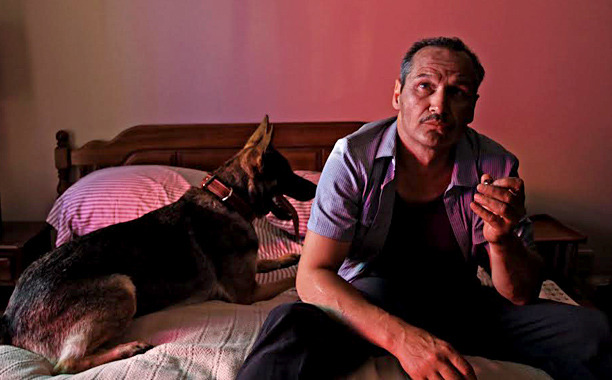 I'm a sucker for a werewolf film, and Late Phases may have just enough of a unique spin to set it apart from the plentiful collection of not-so-good werewolf movies we've seen over the years. In the film directed by Adrian Garcia Bogliano (Here Comes the Devil, Penumbra) from a script by Eric Stolze (no, not Eric Stoltz) a blind veteran (played by Nick Damici of Stake Land) movies to a retirement community. There, he runs across a werewolf — as you might expect, right? From there, the movie turns into a battle of blind soldier versus werewolf, and that's pretty much all I need to know. Watch the Late Phases trailer below.
Late Phases also stars Ethan Embry (Cheap Thrills), Erin Cummings (Spartacus), Lance Guest (Halloween II), Tom Noonan (Manhunter), Tina Louise (Stepford Wives), Karen Lynn Gorney (Saturday Night Fever), Al Sapienza (House of Cards), Caitlin O'Hearney (Wolfen) and Rutanya Alda (The Deer Hunter).
Late Phases hits theaters on November 21. Trailer via Dark Sky Films.
Blind war veteran Ambrose McKinley (Nick Damici, Stake Land) has recently moved to Crescent Bay, a seemingly peaceful community on the outskirts of a dense forest. On his first night in his new home, McKinley hears his elderly neighbor attacked by something he's convinced isn't human. When the creature then kills his seeing eye dog, McKinley's thirst for justice turns into a one-man vendetta against the monster that's terrorizing his neighborhood. And when he's stonewalled by both the police and his fellow residents, he decides to gear up and prepare to fight the beast one-on-one. Now it's man vs myth as McKinley readies himself for what could be his final battle. With a stunning lead performance from Damici as the take-no-prisoners McKinley and jaw-dropping practical special effects, director Adrian Garcia Bogliano's LATE PHASES is a suspense thrill ride unlike any other.