AFI Fest 2014 Full Schedule Revealed; Free Tickets Available Friday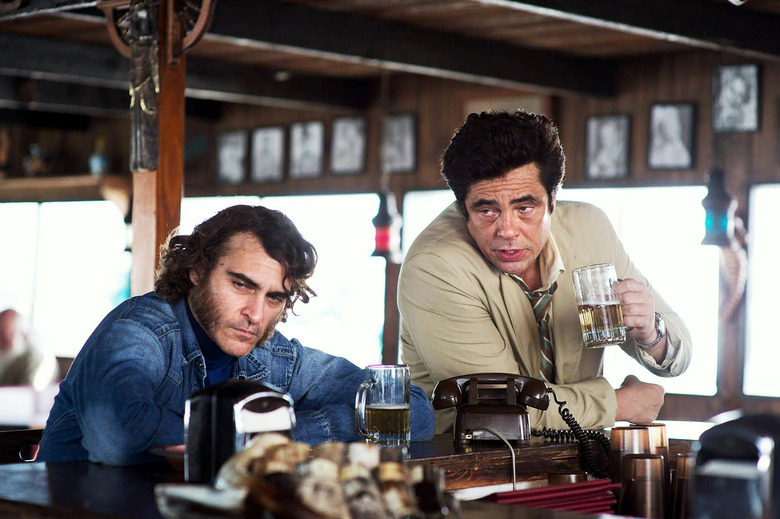 In just a few weeks, one of the best films festivals in Los Angeles hits the silver screen. It's the AFI Fest Presented by Audi. Taking place from November 6-13 in Hollywood, CA, the festival not only features some of the fall's most highly anticipated films. Tickets are completely free. For real.
This year, some of the big titles screening are Paul Thomas Anderson's Inherent Vice, Bennett Miller's Foxcatcher, Mark Wahlberg in The Gambler, and Tommy Lee Jones' The Homesman. In addition to those, AFI has a ton of other films that need to be on your radar. Below, find out how to get tickets and sample just a small amount of the awesome films on the schedule at AFI Fest 2014.
The full AFI Fest Presented by Audi schedule is available at this link. That's also where you can reserve your free tickets on Friday October 24. And if something is sold out, don't worry. So many people request tickets, it's never difficult to get tickets later in the week or even the morning of.
Here is just a tiny sample of the great films and events happening at the festival:
A MOST VIOLENT YEAR – Set in 1981, during one of the most crime-ridden winters in New York City's history, A MOST VIOLENT YEAR follows the lives of Abel and Anna Morales (Isaac and Chastain) as they attempt to capitalize on the American Dream, while the rampant violence, decay, and corruption of the day drag them in and threaten to destroy all they have built. World Premiere.
Thursday, November 6, 2014
INHERENT VICE – INHERENT VICE is the seventh feature from Academy Award® nominee Paul Thomas Anderson and the first ever film adaptation of a Thomas Pynchon novel. When private eye Doc Sportello's ex-old lady suddenly out of nowhere shows up with a story about her current billionaire land developer boyfriend whom she just happens to be in love with, and a plot by his wife and her boyfriend to kidnap that billionaire and throw him a loony bin...well, easy for her to say. It's the tail end of the psychedelic '60s and paranoia is running the day and Doc knows that "love" is another of those going around at the moment, like "trip" or "groovy," that's being way too overused—except that this one usually leads to trouble. With a cast of characters that includes surfers, hustlers, dopers and rockers, a murderous loan shark, LAPD Detectives, a tenor sax player working undercover, and a mysterious entity knows as the Golden Fang, which may only be a tax dodge set up by some dentist...Part surf noir, part psychedelic romp – all Thomas Pynchon. Saturday, November 8, 2014
THE GAMBLER – Jim Bennett (Academy Award® nominee Mark Wahlberg) is a risk taker. Both an English professor and a high-stakes gambler, Bennett bets it all when he borrows from a gangster (Michael Kenneth Williams) and offers his own life as collateral. Always one step ahead, Bennett pits his creditor against the operator of a gambling ring (Alvin Ing) and leaves his dysfunctional relationship with his wealthy mother (Academy Award® winner Jessica Lange) in his wake. He plays both sides, immersing himself in an illicit, underground world while garnering the attention of Frank (John Goodman), a loan shark with a paternal interest in Bennett's future. As his relationship with a student (Brie Larson) deepens, Bennett must take the ultimate risk for a second chance... World Premiere. Monday, November 10, 2014
THE HOMESMAN – When three women living on the edge of the American frontier are driven mad by harsh pioneer life, the task of saving them falls to the pious, independent-minded Mary Bee Cuddy (Hilary Swank). Transporting the women by covered wagon to Iowa, she soon realizes just how daunting the journey will be, and employs a low-life drifter, George Briggs (Tommy Lee Jones), to join her. The unlikely pair and the three women (Grace Gummer, Miranda Otto, Sonja Richter) head east, where a waiting minister and his wife (Meryl Streep) have offered to take the women in. But the group first must traverse the harsh Nebraska Territories marked by stark beauty, psychological peril and constant threat. Tuesday, November 11, 2014
A SPECIAL TRIBUTE TO SOPHIA LOREN – The evening will celebrate Loren's illustrious career and coincides with the 50th anniversary of her Academy Award® nominated role in MARRIAGE ITALIAN STYLE [MATRIMONIO ALL'ITALIANA] (DIR Vittorio De Sica, 1964). A screening of her son Edoardo Ponti's short film HUMAN VOICE (VOCE UMANA) in which she stars and MARRIAGE ITALIAN STYLE [MATRIMONIO ALL'ITALIANA] (DIR Vittorio De Sica, 1964). MARRIAGE ITALIAN STYLE was restored in 2014 by Cineteca di Bologna, the Technicolor Foundation for Cinema Heritage and MEMORY! Cinéma Association and Surf Film.
Wednesday, November 12, 2014
FOXCATCHER – FOXCATCHER tells the story of Olympic Gold Medal-winning wrestler Mark Schultz (Tatum), who sees a way out from the shadow of his more celebrated wrestling brother Dave (Ruffalo) and a life of poverty when he is summoned by eccentric multi-millionaire John du Pont (Carell) to move onto his estate and train for the 1988 Seoul Olympics. Desperate to gain the respect of his disapproving mother, du Pont begins "coaching" a world-class athletic team and begins to lure Mark into an unhealthy lifestyle and erodes the athlete's already shaky self-esteem. Fueled by du Pont's mercurial personality, increasing paranoia and alienation from the brothers, the trio is propelled towards a tragedy no one could have foreseen. Based on actual events, FOXCATCHER, directed by Bennett Miller, is a gripping and profoundly American story of brotherly love, misguided loyalty, and the corruption and emotional bankruptcy that can accompany great power and wealth. Thursday, November 13, 2014
FAULTS - A washed-up expert on mind control accepts an offer to kidnap a young woman from a cult in this assured indie thriller. DIR Riley Stearns. SCR Riley Stearns. CAST Leland Orser, Mary Elizabeth Winstead, Beth Grant, Chris Ellis, Lance Reddick, John Gries. USA.
HAPPY VALLEY - The Penn State child sex-abuse scandal, and subsequent downfall of local heroes Joe Paterno and Jerry Sandusky, is examined in this insightful documentary. DIR Amir Bar-Lev. USA.
BLIND - A recently blinded woman handles the loss of her sight by writing stories about the world she's beginning to forget. DIR Eskil Vogt. SCR Eskil Vogt. CAST Ellen Dorrit Petersen, Henrik Rafaelsen, Vera Vitali, Marius Kolbenstvedt. Norway, Netherlands.
ALLELUIA – A hustler has the tables turned on him when a besotted con victim becomes his partner in crime in this genre-bending tale of sex and obsession. DIR Fabrice Du Welz. SCR Fabrice Du Welz & Vincent Tavier. CAST Laurent Lucas, Lola Dueñas, Stéphane Bissot, Edith Le Merdy, Anne-Marie Loop, Helena Noguerra, Pili Groyne, David Murgia. France, Belgium.
IT FOLLOWS – A group of friends is plagued by a nightmarish supernatural threat in this coming-of-age horror film from AFI FEST alum David Robert Mitchell. DIR David Robert Mitchell. SCR David Robert Mitchell. CAST Maika Monroe, Keir Gilchrist, Daniel Zovatto, Jake Weary, Olivia Luccardi, Lili Sepe. USA.
WHAT WE DO IN THE SHADOWS – In this hilarious mockumentary, the undead lives of five flat-mates are thrown into pandemonium when a recently turned hipster tries to join the party. DIR Taika Waititi & Jemaine Clement. SCR Taika Waititi & Jemaine Clement. CAST Jemaine Clement, Taika Waititi, Jo
ON ACTING: A CONVERSATION WITH MICHAEL KEATON AND EDWARD NORTON – Known for creative fearlessness and meticulous approaches to their craft, actors Michael Keaton and Edward Norton will discuss their careers. Keaton and Norton currently star opposite each other in BIRDMAN OR (THE UNEXPECTED VIRTUE OF IGNORANCE) (DIR Alejandro González Iñárritu).
ON CINEMATOGRAPHY: A CONVERSATION WITH ROGER DEAKINS – Legendary director of photography and 11-time Academy Award® nominee Roger Deakins shares his wisdom and expertise in a discussion about the art of cinematography, and his upcoming release UNBROKEN (DIR Angelina Jolie).