Cool Stuff: 'The Goonies' Lego Diorama Plus More 'Ideas' Projects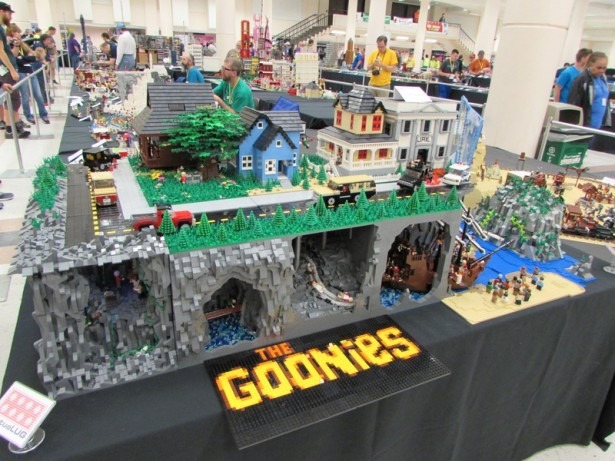 The Internet has taught us lots of things. Cats play keyboards, Charlie bit me and fans want Goonies Lego sets. It feels like month after months, you see images of fan made Lego creations based on the 1985 Richard Donner film. One even got 10,000 votes on the Lego Ideas website and could, potentially get made.
While we wait for that to – maybe – happen, you can check out a stunning, detailed, huge Goonies Lego diorama that was at Brickcon 2014. It includes the Walsh house, jail house, Fratelli's restaurant, and several of the underground passages such as the piano room and more. Check it out below, along with a few new Lego Ideas projects.
First up, here are some images of this awesome Lego Goonies diorama that was on display at BrickCon 2014. It was made by The Virtual LEGO Users Group and posted by Nerdist. Head there for more photos and info.
And here are the current Lego Ideas projects on the site. What Lego Ideas is are Lego sets created by fans. If they get 10,000 votes, the Lego review board will review the set and then every few months, they pick one to actually build. Some of the previous winners were the Back to the Future Delorean and Ghostbusters Ecto-1. All of these projects are created by the same team and you can see more images (and more importantly vote) at these links: Pirate ship, jail break and piano scene. Of note, the Pirate Ship already has 10,000 votes.
And yes, we've covered some of this in the past, but most of it is new.
These sets were all created because 2015 will be the 30th anniversary of The Goonies and the hope is those will get produced by then. As a Lego fan, while I'm glad the Pirate Ship will go up for review, I don't actually think it'll get made. These sets are all well-done, but none are as instantly recognizable as the Delorean or Ecto-1. In fact, most of the truly iconic Goonies images are small and therefore probably won't translate to Lego. Still, I think it would be awesome if any of these got made and if not, we can at least enjoy them like this.
Thoughts on these Goonies Lego sets?