First Look At Johnny Depp's Wolf In 'Into The Woods'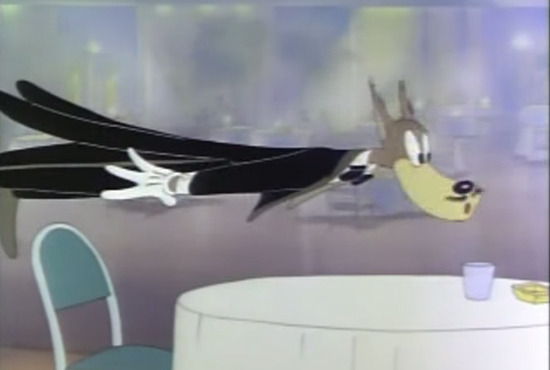 We've seen some of the actors and their costumes in Rob Marshall's movie adaptation of Into the Woods, but until now we haven't seen the Johnny Depp wolf outfit. And if that still from Tex Avery's cartoon Red Hot Riding Hood (above) didn't clue you in, the costume they've come up with for Depp is a little, uh, well just check it out below.
EW has revealed one of four holiday covers, featuring the first look at Depp's furry suit, whiskers, and cute little ears . This one is going to be a big seller at Spirit Halloween stores next year. It could be from a new version of Cats scripted by James Ellroy. It will haunt your dreams.
(I could have gone with the wolf from the Three Little Bops cartoon as the header image, too, but Avery's wolf has the 'stache.)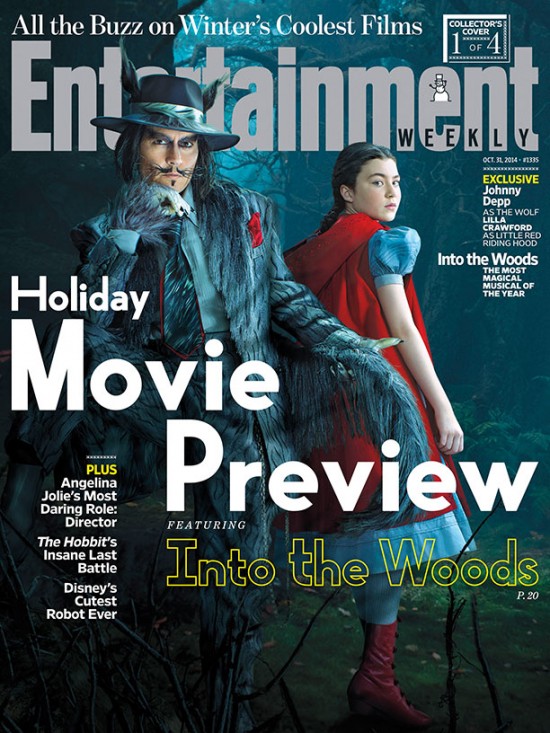 Here are three more covers:
Into the Woods opens December 25.
"Into the Woods" is a modern twist on several of the beloved Brothers Grimm fairy tales, intertwining the plots of a few choice stories and exploring the consequences of the characters' wishes and quests. This humorous and heartfelt musical follows the classic tales of Cinderella (Anna Kendrick), Little Red Riding Hood (Lilla Crawford), Jack and the Beanstalk (Daniel Huttlestone), and Rapunzel (MacKenzie Mauzy)—all tied together by an original story involving a baker and his wife (James Corden & Emily Blunt), their wish to begin a family and their interaction with the witch (Meryl Streep) who has put a curse on them.
Rob Marshall, the acclaimed filmmaker behind the Academy Award®-winning musical "Chicago" and Disney's "Pirates of the Caribbean: On Stranger Tides," directs the film, which is based on the Tony®-winning original musical by James Lapine, who also penned the screenplay, and legendary composer Stephen Sondheim, who provides the music and lyrics. Produced by Marshall, John DeLuca, "Wicked" producer Marc Platt and Callum McDougall, "Into the Woods" will be released in theaters Dec. 25, 2014.