Rumor Patrol: Just How Long Is Ridley Scott's 'Exodus: Gods And Kings'?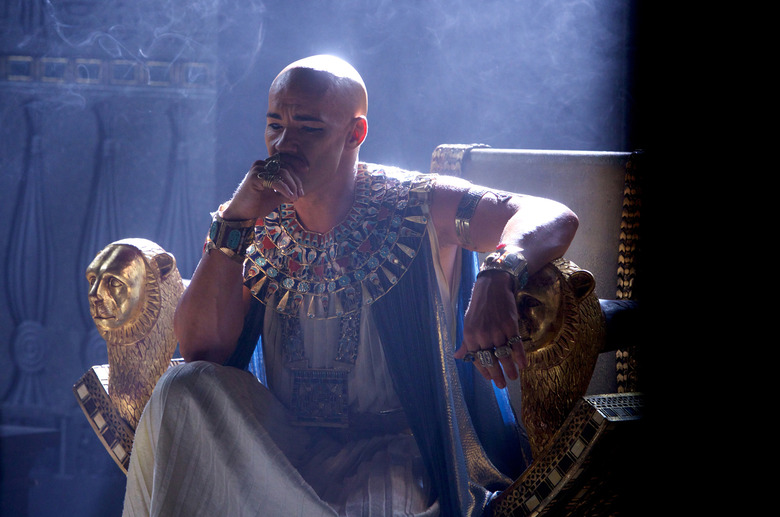 Ridley Scott has said that one of the things that intrigued him about Exodus: Gods and Kings was how big it was — the grand scale, the giant story, the massive challenges. And earlier this week, a rumor went around that the film would have an enormous running time to match.
The story had an aura of plausibility to it because Exodus: Gods and Kings really is an epic tale, and because Scott has flirted with extra-long runtimes before. His Kingdom of Heaven director's cut ran well over three hours, and was better for it. But could it really be true in this case? Get the facts about the Exodus Gods and Kings runtime after the jump.
But IMDb can be edited by anyone, so it was unclear where that information came from. Now the film's official Twitter page suggests it was bunk. Instead, it confirms Exodus: Gods and Kings has a much less extravagant running time of 140 minutes.
People have asked, here's the answer: running time of Ridley Scott's 'Exodus: Gods and Kings' will be approximately 2 hours 20 mins.

— Exodus (@ExodusMovie) October 21, 2014
Some have cautioned that this figure may not reflect the final cut, but either way Exodus: Gods and Kings probably won't be the butt-numbing, bathroom-break-requiring marathon suggested by earlier reports. Or at least, the theatrical version won't be. Scott loves releasing director's cuts, so there's always the possibility he'll hit us with a 200-minute edit on Blu-ray.
If we ever do get a 200-minute version of Exodus: Gods and Kings, it'll be Scott's longest movie ever. Only the Kingdom of Heaven director's cut really even comes close, at 194 minutes. Though the director's cuts of Gladiator (170 min.) and American Gangster (175 min.) are up there as well.