Patrick Stewart Playing White Supremacist For 'Blue Ruin' Director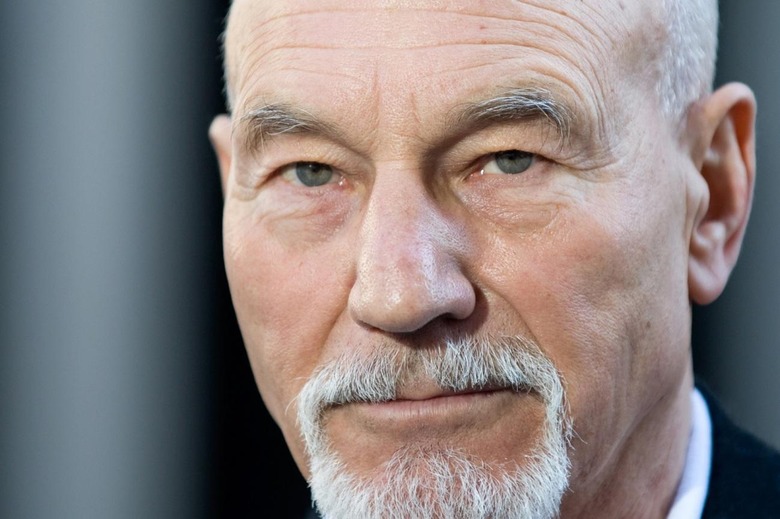 Jeremy Saulnier is putting together the follow-up to his excellent thriller Blue Ruin, and he's got a cast that makes the film an instant lock to see. Anton Yelchin, Alia Shawkat and Imogen Poots all star in Green Room, which Saulnier wrote and will direct. But it's the most recent addition that will probably get your attention. Patrick Stewart has joined the cast to play the leader of a bunch of "white power skinheads." The Wrap has more info on the film. Yelchin, Poots and Shawkat will play "a young punk rock band who find themselves trapped in a secluded venue after stumbling upon a horrific act of violence and fighting for their lives against a gang of white power skinheads intent on eliminating all witnesses."
As for Stewart, he'll be "Darcy Banker, the unflinching and industrial leader of a ferocious white supremacist fiefdom based in the Pacific Northwest."
Green Room is shooting now in the Portland, Oregon area, and we'll likely see it next year. While Saulnier is also a cinematographer and lensed Blue Ruin, Sean Porter, who did gorgeous work for Kumiko the Treasure Hunter, is shooting Green Room.
Expect a festival debut for this film. Blue Ruin premiered at Cannes in the Directors' Fortnight sidebar, and there won the FIPRESCI International Critics Prize. So a Cannes debut seems likely for Green Room, especially since the Sundance 2015 submission deadline is past.
The cast of this film also features Mark Webber, Macon Blair (of Blue Ruin), and Joe Cole, Callum Turner, Kai Lennox and Eric Edelstein.