Benedict Cumberbatch Exudes Menace In Smaug Mo-Cap Footage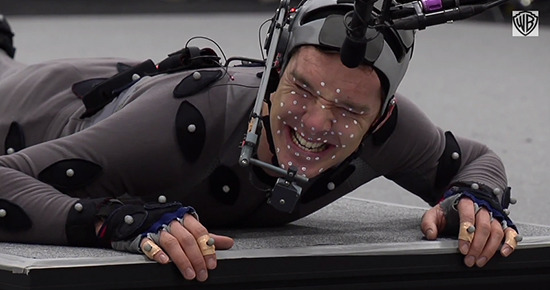 We're pretty familiar with the sight of good actors jumping and rolling about in mo-cap suits while doing performance capture work for effects-based films. We're especially familiar with that image when it comes to Peter Jackson's Middle-Earth movies. And yet there's something special about seeing Benedict Cumberbatch, whose on-screen presence radiates control and composure, crawling on his belly and fire-breathing dialogue for the worm Smaug in The Hobbit: The Desolation of Smaug. A few short featurettes about the creation of the dragon, and the Smaug mo-cap work, have gone online. They're probably more fun than at least half the other stuff you could be watching. Check out a few below.
We've posted a short bit of footage showing Cumberbatch's mo-cap work, but that was way back at the beginning of this year.  The Desolation of Smaug is available in digital formats now and hits Blu-ray and DVD on November 3, so Warner Bros. and everyone else involved in distributing the film
The LA Times has the best of the videos, as if features some interviews, a bit of the actor getting suited up, and then a good bit of action footage. It's also the one that is technically non-embeddable, so if you can't see the video immediately below head to the LAT link above.
Then there are a couple more, from Warner Bros. UK and MMGNAustralia. The first one has more performance footage, while the second is more oriented on the design of Smaug himself. You can bet the blu-ray will have a lot more of this sort of thing.
The final film in the three-movie adaptation of The Hobbit is The Hobbit: The Battle of the Five Armies, which opens on December 17.