'Static Shock' Live-Action Series Coming From 'Django Unchained' Producer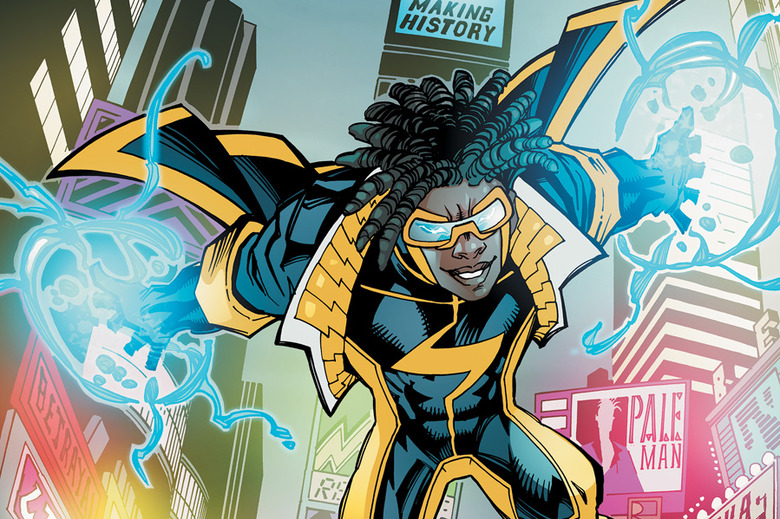 It seems Warner Bros. will not rest until every DC superhero has his or her own live-action adaptation. Not that we're complaining. The latest comic book project announced by the studio is Static Shock, a live-action series to be produced by Warner Bros.' new digital division Blue Ribbon Content.
At the center of the story is Virgil Ovid Hawkins a.k.a. Static, a young black geek with electromagnetic superpowers. Django Unchained producer Reginald Hudlin will executive produce. Hit the jump for details on the new Static Shock series.
Writer/producer/director Reginald Hudlin (Best Picture Oscar nominee for producing Django Unchained) leads the creative team behind a live-action adaptation of Static Shock, featuring the African-American super hero Static, aka Virgil Ovid Hawkins. Static Shock is based on the Static comic co-created by the late Dwayne McDuffie with co-writer Robert L. Washington III and artist John Paul Leon, which was originally published by the DC Comics imprint Milestone Comics and, later, by DC Comics. Milestone Media co-founder/comic book artist/TV producer Denys Cowan (the original Static Shock animated series) is collaborating with Hudlin on the new Static Shock.
Static was first created in 1993 by Dwayne McDuffie and Robert L. Washington III and artist John Paul Leon under DC Comics' Milestone Media imprint. In 2000 he got his own animated TV show Static Shock, which aired for four seasons on The WB.
While Blue Ribbon Content is new, its key players already have plenty of experience with superhero projects. At the head of the division is Sam Register, whose other credits include Teen Titans Go!, Young Justice, and Batman: The Brave and the Bold.
It's unclear when or where the new live-action Static Shock series will air. Machinima seems like a possibility since they are also set to distribute Blue Ribbon Content's Justice League: Gods and Monsters Chronicles short-form animated series next year. However, nothing has been confirmed yet.