'The Hunger Games: Mockingjay, Part 1' Reveals New TV Spot And 'District Voices' Web Series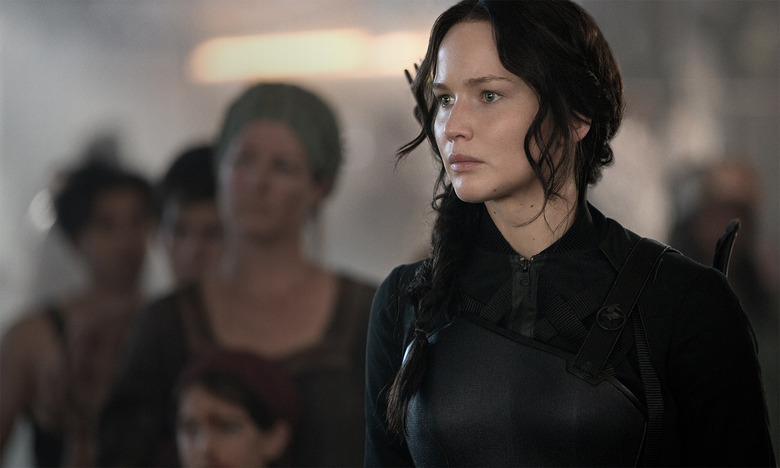 Any successful film franchise requires solid world-building. In the case of The Hunger Games, that world has a way of extending into ours, thanks to Lionsgate's brilliant marketing campaign. Their latest effort for The Hunger Games: Mockingjay – Part 1 is a five-part web series called District Voices, featuring YouTube personalities like iJustine showcasing different aspects of life around Panem.
Of course, that doesn't mean Lionsgate is forgoing more traditional advertising efforts, either. The studio has also released a new promo featuring new footage from Katniss' plight. Hit the jump for the Hunger Games District Voices series and the new Hunger Games Mockingjay TV spot.
District 8: Rob Czar & Corinne Leigh, co-helmers of the 'Threadbanger' YouTube channel, show how to best make use of excess Peacekeeper armor.
District 2: Shane Fazen, of the 'fightTIPS' YouTube channel, showcases the training and techniques required to be a Peacekeeper in Panem.
District 5: Derek Muller, known for the mind-blowing experiments and scientific discussions on his YouTube channel 'Veritasium', demonstrates new ways in which the Capitol may generate its electricity in the future.
District 9: Jimmy Wong & Ashley Adams, best known for their 'Feast of Fiction' YouTube channel, demonstrate baking techniques from Panem's Grain District.
District 6: iJustine's Justine Ezarik, gives a glimpse at the driving force that proudly supports the transportation needs of Panem's vaunted Peacekeepers.
And here's the first installment:
The Lionsgate marketing team deserves so much credit for its work on the Hunger Games movies. Something like District Voices or those District Heroes posers may not directly tie into the plot of The Hunger Games: Mockingjay – Part 1, but they go a long way toward fleshing out Panem and making it feel "real." They're also a pretty genius way to keep the Hunger Games conversation going without giving away too much of the actual movie.
It's not that Lionsgate seems adverse to more traditional advertising, though. Rather, the two approaches work hand-in-hand. Check out the latest Hunger Games Mockingjay spot, in which Katniss steels herself for battle, below:
You may have noticed that the ad is sponsored by Doritos, which is a weird choice of corporate partner for a film called The Hunger Games, set in a dystopia where our heroine rarely had enough to eat. Maybe leading lady Jennifer Lawrence just couldn't bear the thought of getting through a movie shoot without her beloved chips.
Francis Lawrence directs The Hunger Games: Mockingjay, Part 1 for release on November 21. Also starring are Josh Hutcherson, Liam Hemsworth, Woody Harrelson, and Donald Sutherland.
The worldwide phenomenon of The Hunger Games continues to set the world on fire with The Hunger Games: Mockingjay – Part 1, which finds Katniss Everdeen (Jennifer Lawrence) in District 13 after she literally shatters the games forever. Under the leadership of President Coin (Julianne Moore) and the advice of her trusted friends, Katniss spreads her wings as she fights to save Peeta (Josh Hutcherson) and a nation moved by her courage. The Hunger Games: Mockingjay – Part 1 is directed by Francis Lawrence from a screenplay by Danny Strong and Peter Craig and produced by Nina Jacobson's Color Force in tandem with producer Jon Kilik. The novel on which the film is based is the third in a trilogy written by Suzanne Collins that has over 65 million copies in print in the U.S. alone. Lionsgate presents, a Color Force / Lionsgate production, a Francis Lawrence film.