WTF: 'Scream' TV Series Won't Feature Ghostface?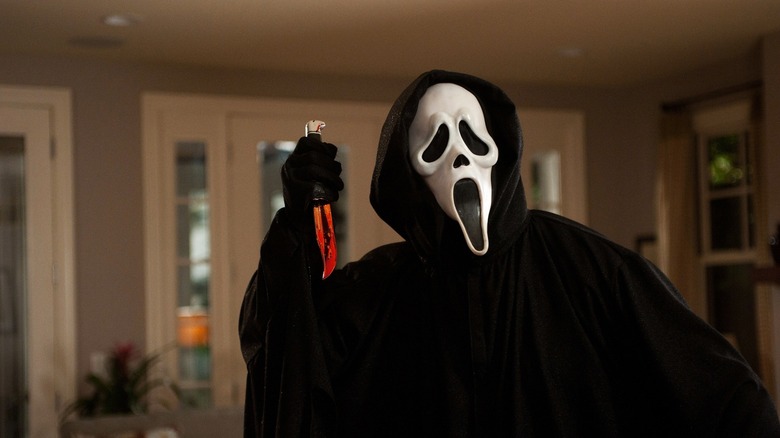 For the past couple of years, MTV has been developing a Scream TV series based on the film franchise by Wes Craven and Kevin Williamson. As of this summer, they had a director and cast in place. But now we're getting some head-scratching info about the very premise of the show.
According to RJ Torbert of FunWorld, which holds the rights to the Ghostface "look," Ghostface is not involved in the new Scream TV series. Which is kind of like having a Child's Play movie without Chucky. Hit the jump to read Torbert's comments.
Please note, that I had been in communication with TWC regarding this and they have informed me, that as of now, and during the initial launch that GHOST FACE® is not involved in the new format. They also indicated that because of this direction, it does not mean, that Ghost Face® will not be involved at a later date. So, there is still a question, to the question. However, as of now, there is no involvement.
Torbert denies any rumors of FunWorld keeping Ghostface from the Scream TV series, then continues:
We believe SCREAM is GHOST FACE, and GHOST FACE® is Scream. However, while GHOST FACE® is owned by Fun World, The Scream Motion Picture Franchise is owned by The Weinstein Company and it is their option to Film a movie or T.V. SHOW without GHOST FACE®.
Regardless, we wish them the best of luck and I'm sure SCREAM FANS will check out the series. Who knows what will happen in the future regarding the series and Ghost Face®. Never say Never.
So okay, there's still a chance Ghostface could make it in. But it's frankly weird that The Weinstein Co. would even consider leaving Ghostface out of the series. That iconic mask is what makes Scream Scream.
Well — that and a better-than-average sense of self-awareness. Indeed, that seems to be the part The Weinstein Co. is hoping to translate to the small screen. The new Scream TV series involves centers on a YouTube video that goes viral, with dire repercussions. The "rules" of horror movies are reportedly a big theme of he show.
Jamie Travis is directing the pilot which stars Willa Fitzgerald, Amy Forsyth, John Karna, Carlson Young, and Amadeus Serafini.